Shaved Teen Pussy Gets Destroyed
As kawaii as one can be
If you're wondering what's better than a regular good old pussy, Japan Lust has got you covered. A freshly shaved teen pussy is your answer. And that's what cute Japanese teen Miwa is here to provide.
Miwa is super easygoing; her cute laugh is intoxicatingly addictive to hear.
Today she's got her hair tied into two adorable pigtails resting on her shoulders. Her wardrobe also matches her kawaii theme. A short white fur coat over a sweet pink t-shirt above, and a patchy-patterned mini-skirt with a pair of delightful black knee-highs below.
She works in a company and enjoys going to the gym whenever she has the time. She really wants a boyfriend.
Don't get it wrong though, that doesn't mean her shaved teen pussy isn't getting pounded regularly. Apparently, this naughty teen already has multiple fuck-buddies who regularly stretch her tight hole.
That also happens to be the reason she's here today, to get that amazing fresh pussy drilled and pleasured.
However, she does seem to be very shy, only reasonable for someone as cute as she is, it actually makes her 10 times more adorable. Her puffy cheeks almost instantly turn red after he casually asks her to take off her coat.
Being this shy, she doesn't have any experiences having sex outside or in public, inside of a car for example. To her things like that are just too embarrassing. Though she doesn't mind being touched in public, like having someone reach under her skirt or grope her perfect teen boobs.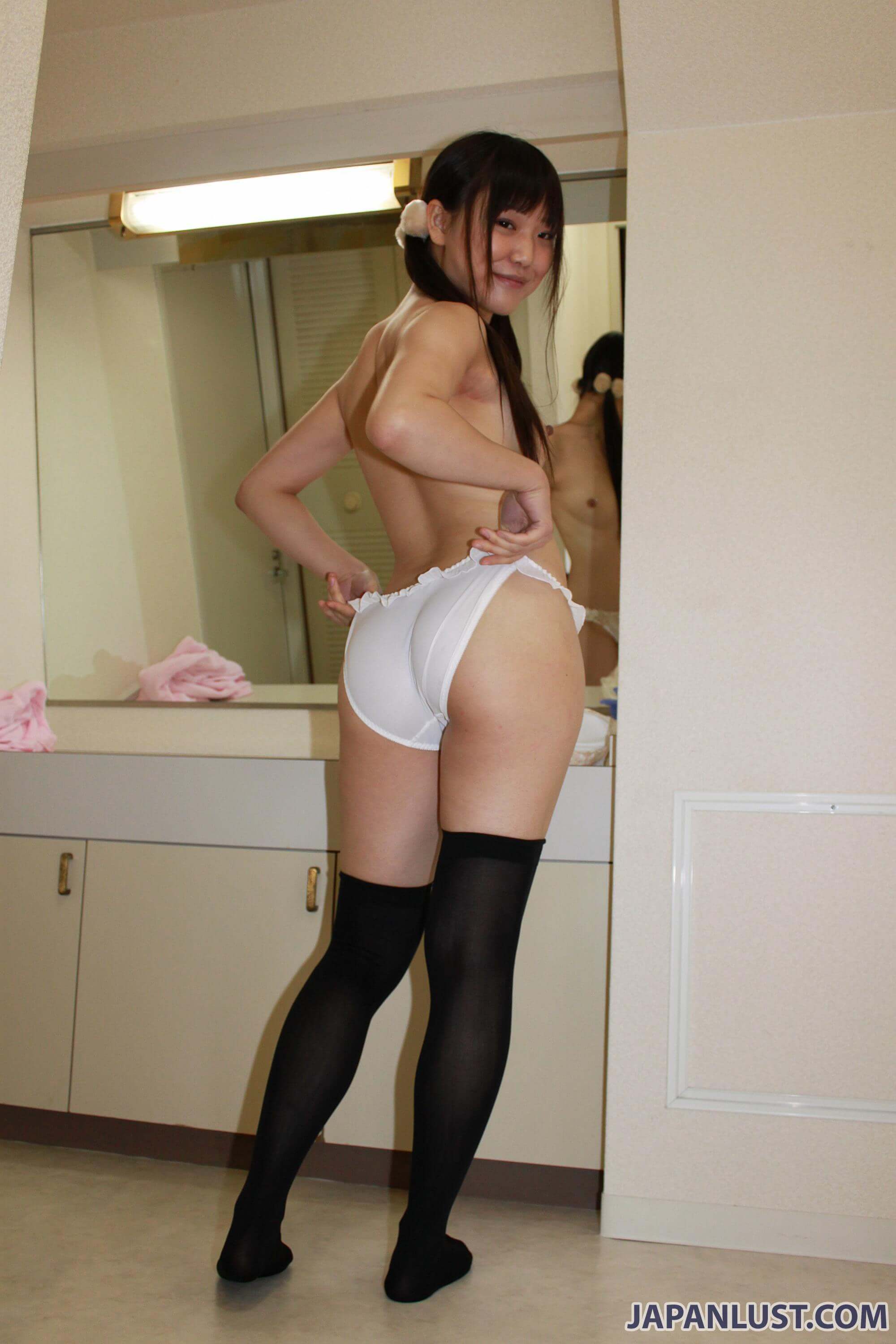 Fun times in the shower
He asks her to choose which to take off first, top or bottom.
She's a bit reluctant at first, but eventually chooses to remove her t-shirt. Beneath it is another article of clothing. It takes some convincing before she takes it off, and we finally get a view of her perky teen boobs underneath her sweet white bra.
Now it's the bottom half's turn. She drops down her skirt; her young teen body is so tight, just looking at it can get a man rock hard within seconds.
Exploring his options and trying to devise a plan to get her naked, he finally hits the jackpot when he invites her to take a shower and the adorably shy teen accepts.
He walks in on her as she's getting ready to take off her underwear. She unhooks her bra but immediately puts her arms over gorgeous boobs. Her amazing curved ass lures his eyes as soon as she drops down her panties.
One hand over her firm boobs and the other hiding her shaved teen pussy, she hesitantly removes them.
At last, her beautiful erect nipples, and deliciously fresh cunt, are in full view for us to revel in their beauty.
If the scenery wasn't great enough, the playful attitude she has while teasing her man is there to make things so much more arousing.
Water flows all over her stunning body. Her incredibly toned stomach, perky tits, yummy pussy and heavenly legs; all shine as she rubs herself all over.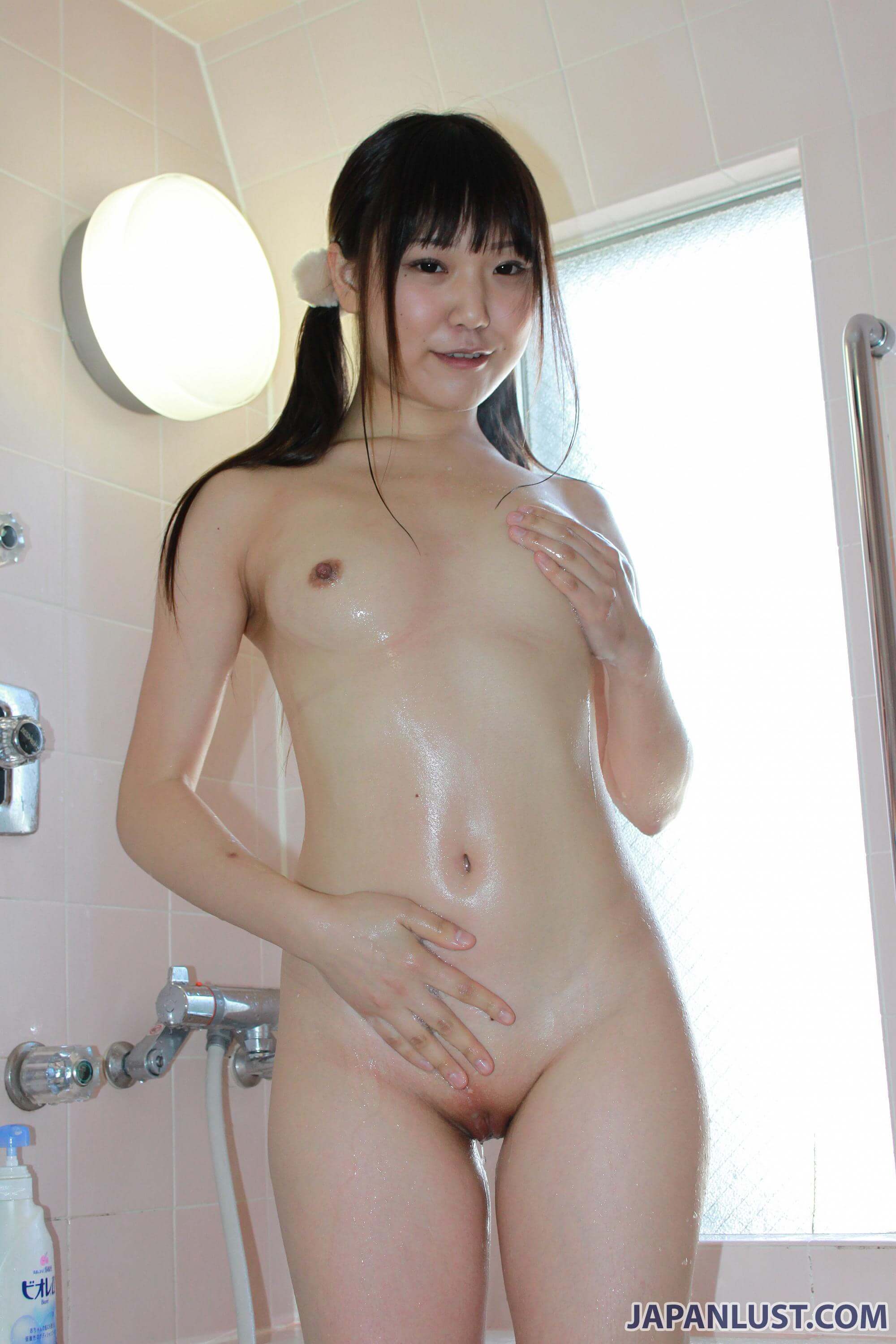 VIP access to heaven
Once done with the shower, she drags down her pink towel, and he goes in for a feel of her amazing c-cups. They're so soft and nice, and her nipples are already so hard and erect.
Switching between teasing the nipples with his fingers and fondling the shapely breasts, the lucky bastard realizes he's in for the time of his life.
But he hasn't forgotten about the viewers, at least not yet. So he has her touch and squeeze her own boobs in an extremely lascivious scene.
She's only taking care of one of her perfect pair though, so he goes for the other with his hand to make sure it doesn't feel left out.
It takes a lot of effort, but our hero eventually manages to get her hand off of her shaved teen pussy.
The lips are so soft and ripe, they look almost completely untouched. Spreading them reveals a feast any man would kill for in a heartbeat.
He stimulates her clit with his fingers for a bit before spreading her ravishing legs to go in.
Driving his finger deep inside the hole, her face looks so cute as she exhales lustfully. The rapid penetration becomes more sensational when she reaches to help him by rubbing her clit while his finger drills her pussy.
The guy saves no time for transitions, handing her a sex toy with a massive rotating head and an attached clit stimulator as soon as he pulls out his finger.
Her naught side starts to show once she's got a hold of the toy. She doesn't hesitate to shove it all the way in from the start. The huge rotating head deep inside of her, along with the clit teasing attachment, make her twitch in sexual satisfaction.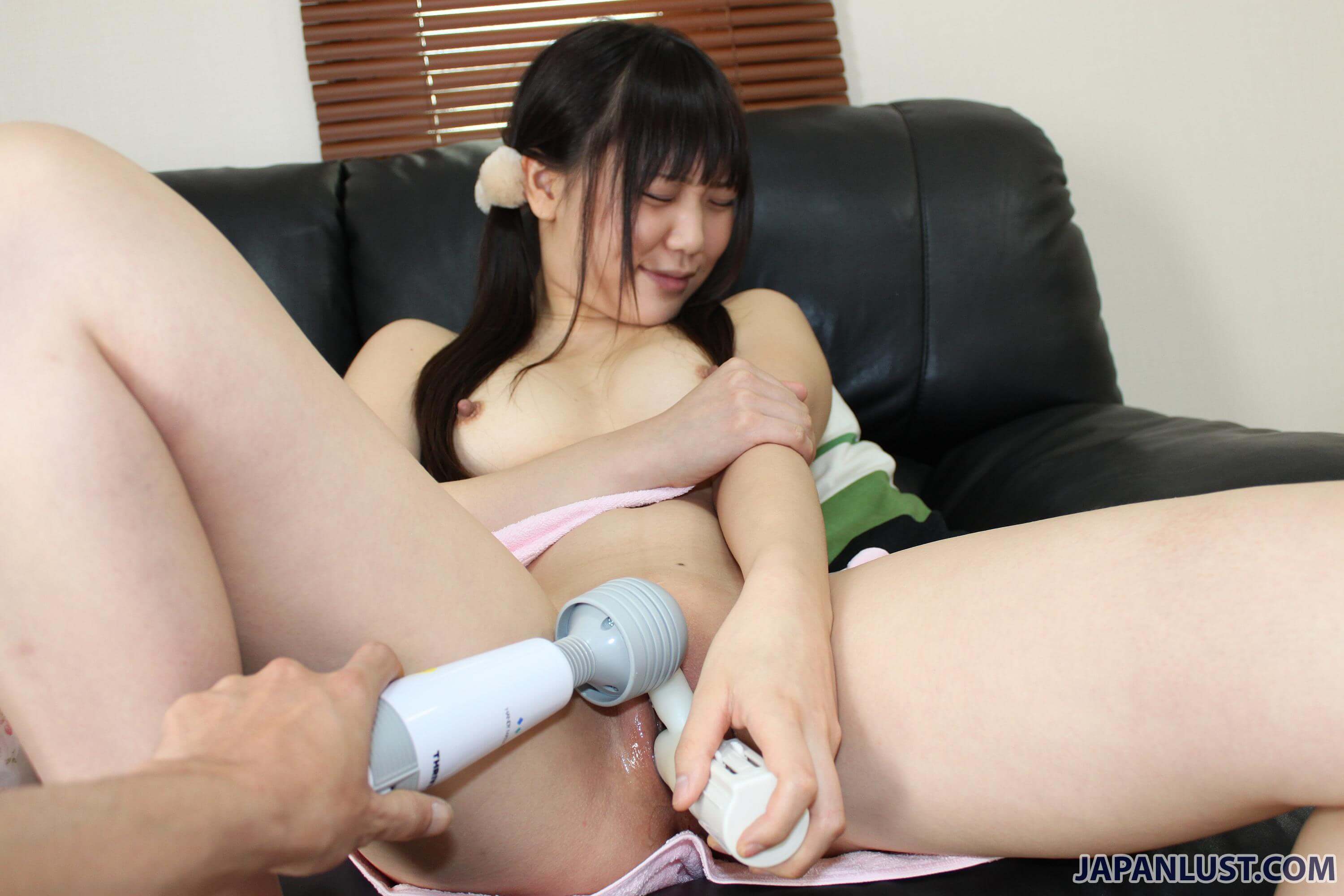 His magic wand
He's got one more trick up his sleeves, bringing out a denma and pressing its vibrating head right above the clit stimulator.
What was once quiet moans turns into screams of pure pleasure as the amazing feeling makes her go crazy. Her body twists and jerks, dancing to the sound of her lust.
Her shaved teen pussy is already soaking wet, her lush lips glistening from all the love juices covering them.
But what good is a magician without a wand?
The lucky guy comes close, and she teases his cock from over his boxers before he drops them down.
Cute Miwa grabs the shaft with her hand and stokes his cock for a bit, but she can't refuse his offer to use her mouth after he asked so nicely.
Slapping her tongue with the rod before sucking on the head, it takes only a few seconds of her sweet mouth at work for this guy to turn stiff as a pole.
No way he can take in so much pleasure standing up, he lies down and the nubile babe makes sure to take good care of her guest.
Using her hand and her mouth to work the shaft and the head to perfection, her man's mind is no longer his own.
Every now and again she takes off her mouth and put out her tongue, dripping with a mixture of precum and nectar-sweet saliva.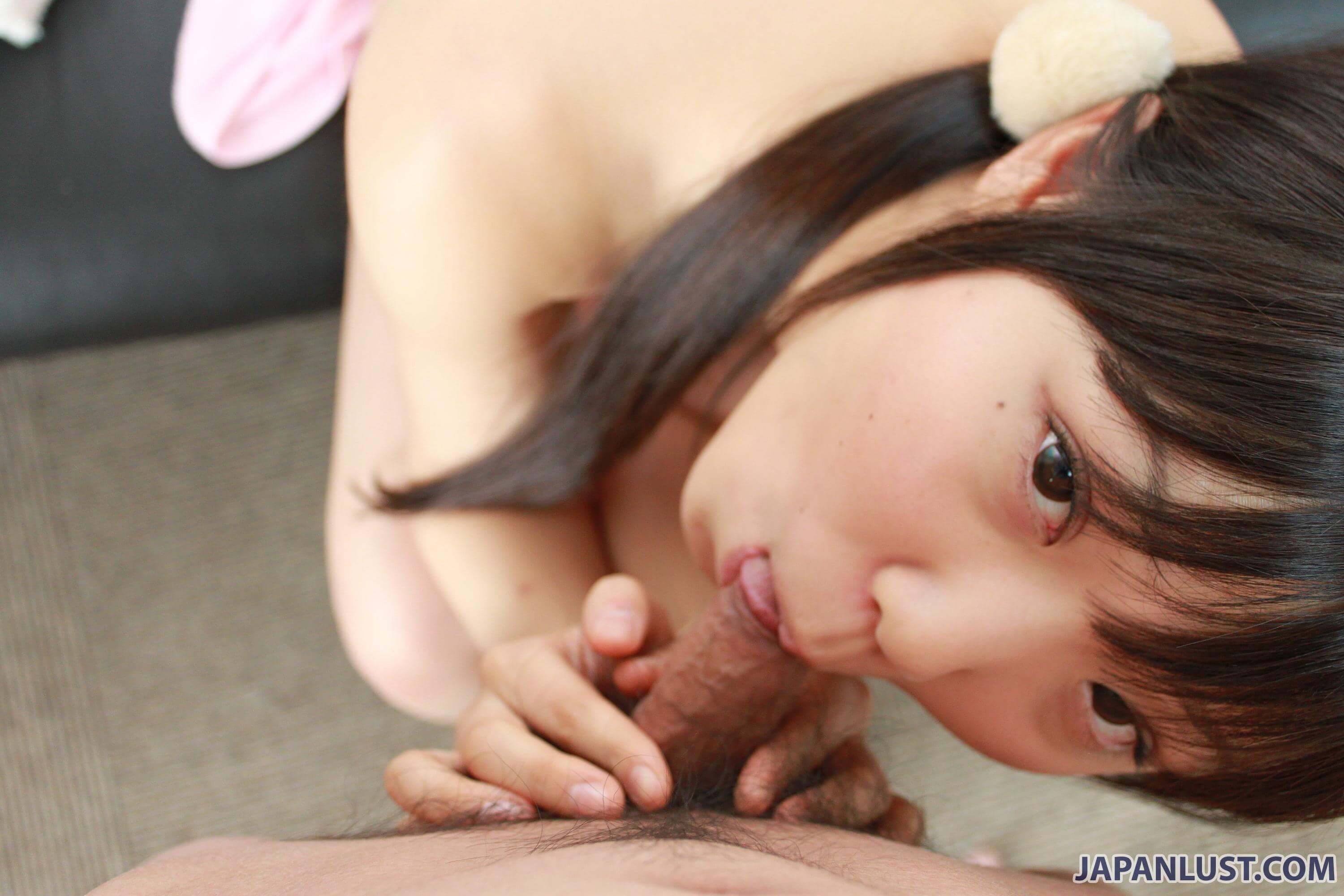 The shaved teen pussy experience
He can't believe she agreed to let him put it inside of her.
Hurriedly putting on his condom, she's already laying on her back, waiting for him with spread legs.
The hard cock stretches her perfect shaved teen pussy nice and wide, stirring up her insides as it drills deep inside.
Gracefully sitting up to take the top position, she starts to rapidly jump up and down the rod.
Her perky firm boobs bouncing alongside her hips, lust seeps from each breath she takes.
Not realizing she's a magician too, her trick surprises him; spinning herself on the cock without pulling off to switch into reverse cowgirl.
Now with her voluptuous ass right in front of him, she starts to pound on his groin with her big cheeks. The slapping sound the perfect fleshy pair makes when they bump into his body and jiggle is as seductive as it can get.
Bending her on all fours, he continues to pummel her delicious ass, going a bit slow at first.
As the thrusting pace picks up, her moans grow louder as the rock hard cock destroys her shaved teen pussy. One can appreciate her big curvy ass even more in this position.
The erotic teen is on her back for one last time. The drilling of her hole and the dance her tits make to the rhythm make her scream as she finally cums.
Letting his lady go first, his soon to follow, pulling his cock out right as reaches his limit, and dropping his hot white load right on her boob, spraying all around her erect nipple, bringing this satisfying scene to an exquisite end.