Petite Asian Teen has a Molestation Fetish
Petite Asian teen Hinako Imanishi is not like any typical guest we've had on the Japan Lust couch. As we're all soon going to find out, she's got some pretty naughty fantasies going on inside her little head.
With no boyfriend and no fuck buddies, she has gone sexually unfulfilled for quite some time now. She does prefer being single however. According to her, not having a boyfriend allows her to spend more time on herself. Specifically her hobbies, reading and cooking, being an "indoors person" as she likes to call herself.
Reading and cooking aren't the only things she likes doing by herself though, she also satisfies her sexual desires by regular masturbation.
Soon her kinky side starts to peak its naughty head, as she starts to describe her masturbation rituals.
The petite Asian teen likes to sit in front of a mirror, tie her cute little arms with a ribbon, and erotically suck and swallow a huge dildo. As well as occasionally choking and being rough with herself for that added pleasure.
While she's doing that, she fantasizes about getting molested by a stranger in public. Also called "Chikan" in Japanese, it's mostly used to describe getting fondled and groped on a busy bus or train.
The thought of getting used and abused by her molester and his friends as they have their way with her and do with her tiny body as they please. Thrown around, choked, treated like a sex slave and plowed hardcore while begging for mercy. Makes ultra masochist Hinako's shaved pussy soaking wet.
Unfortunately for this lewd Japanese young lady, she's never actually gotten molested before. That doesn't mean we can't grant her wish right here and now though.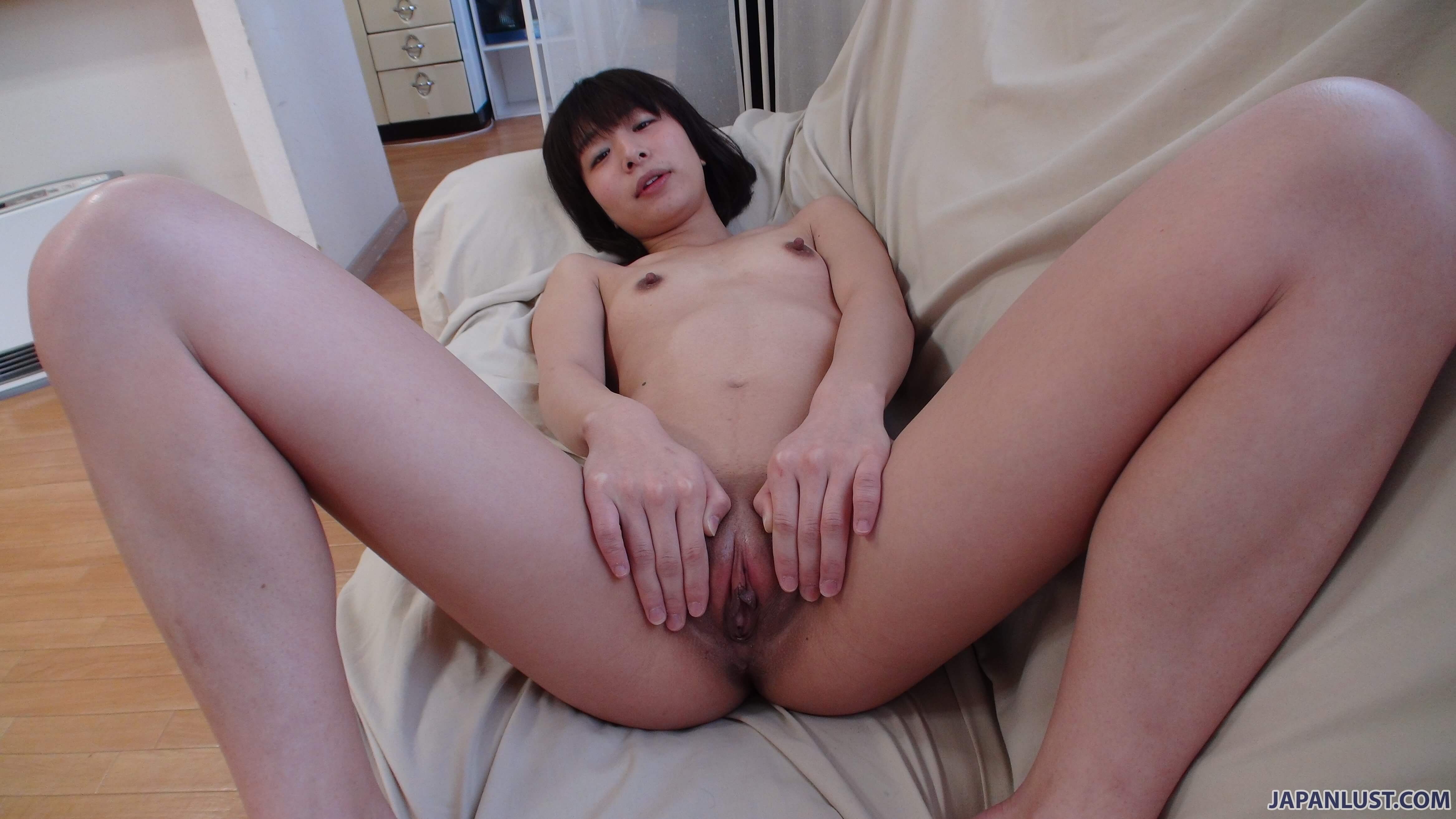 Appealing to her fetish
Hinako's outfit is composed of a comfy long-sleeve sweater and a classy navy blue miniskirt. Perfect for roleplaying a molestation scenario.
She's so excited to finally taste the true feeling of getting touched against her well. To the point where she's immediately lifting up her skirt the moment we tell her to get up and stand against the wall. Our goal here of course is to simulate the setting of a moving bus or train.
It's nice that we get a free early glimpse of her yummy little butt covered by her beige panties. But we shouldn't get ahead of ourselves, otherwise our replication of her long-admired fantasy won't feel authentic.
The interviewer gets behind her and starts caressing her ass and thighs with his hand before grinding on her.
Like a real molester, his greed doesn't allow him to stop there, as his hand hurriedly reach for under her skirt, groping her ass tightly as the petite Asian teen looks adorably scared.
More sensual touching follows as the violated girl gets her miniskirt dropped, completely exposing her slender legs and heavenly little butt.
Playing with her pussy and tugging her panties between her delicious ass cheeks to give her a hot wedgie, she's beyond ecstatic at how real this all feels.
Her submissive side vividly presents itself, as she fervidly wiggles her ass against his caged cock.
Naturally, he whips out the rod next. Grinding it on her panties and shoving it between legs.
Like a true professional, he then slips his diamond hard cock beneath her panties, using them to jerk it off before completely dropping them down.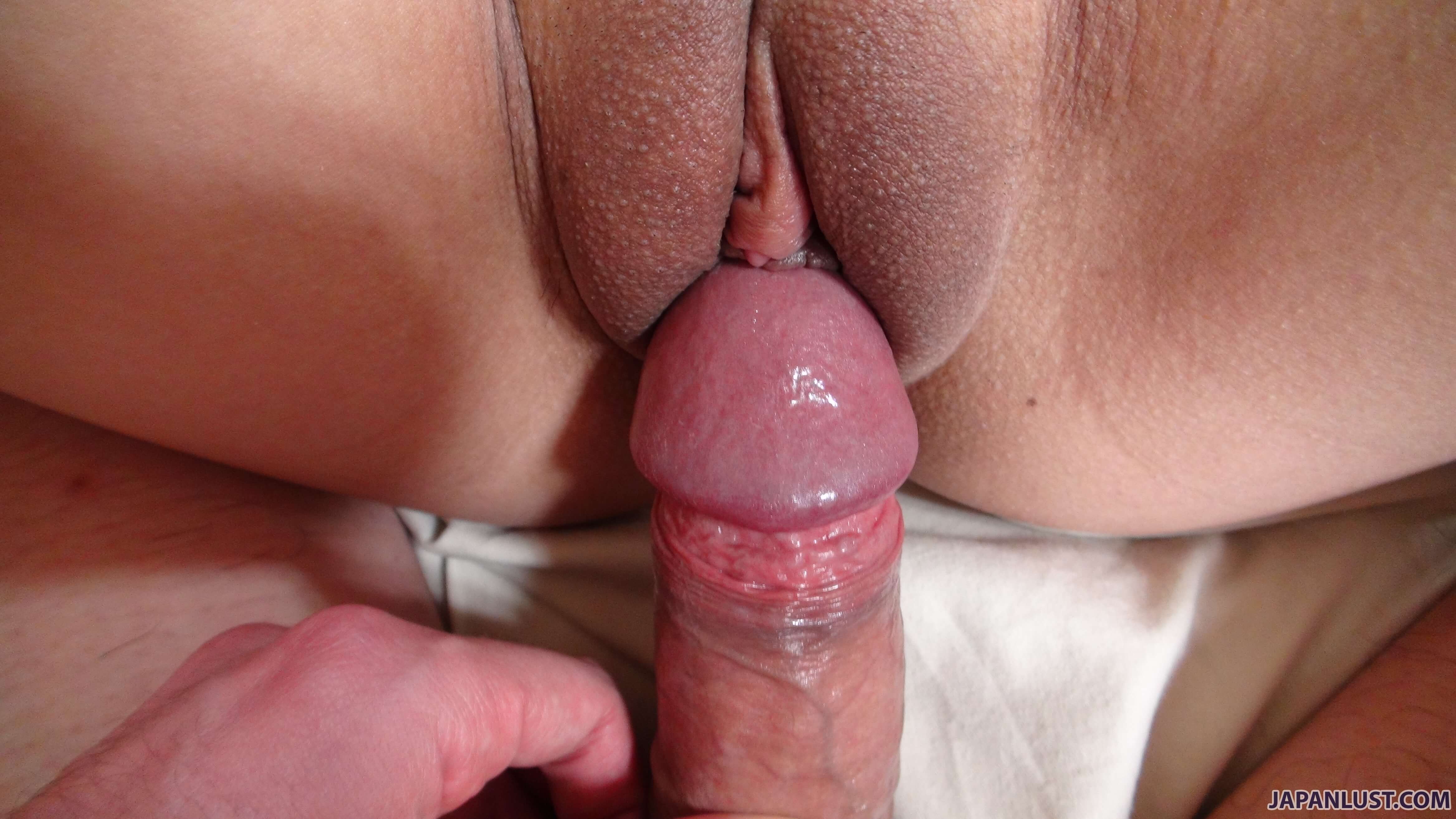 More kinks and a wet shaved pussy
Now grinding on her naked ass and rubbing her freshly shaved pussy with the cock tugged between her legs, he passionately nibbles on her neck as he grabs her gorgeous small boobs with one hand while stimulating her clit with the other. Her masterfully multitasking partner has completely sent this petite Asian teen to cloud nine.
Her replicated fantasy has been something straight out of a dream. However, she needs to sit down if he's to serve her to his best potential.
Hinako reluctantly abandons her perfect setting and heads towards the couch. Spreading her luscious pussy lips to expose the lustfully wet pink hole waiting inside, his finger takes very good care of her sensitive clit.
Rubbing turns to fingering, and fingering leads to devouring. Index and tongue work together to bring unparalleled satisfaction to this young shaved pussy.
The petite Asian teen, now lying on her back and getting relentlessly stimulated, is pleasantly surprised by the feeling on pink rotor sliding all over her delicate small body.
Served to arousing perfecting by the many tools and techniques her man has up his sleeves, it's about time he got some love himself.
Her loving little hand reaches for his stiff shaft as soon as they're sitting next to each other.
Once the hard cock has been prepared, she rubs her sweet lips all over its head before swallowing it.
A messy blowjob with tongue flicking and lips nibbling. The rod that will drill her perfect pussy is lubricated and ready to give her a night that she surely won't be forgetting about any time soon.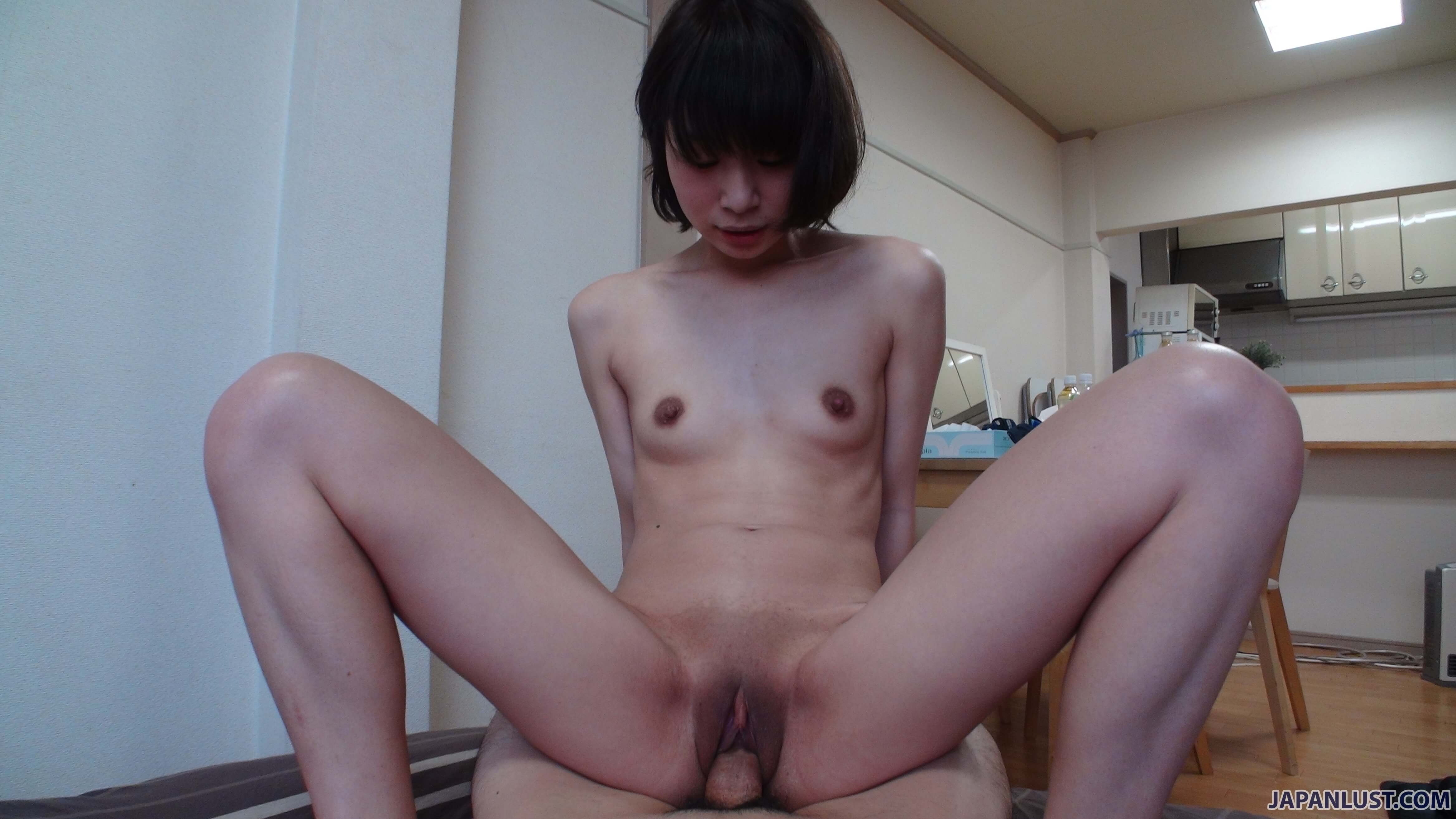 Big hard cock and a petite Asian teen
Hiroko lies down again and spreads her stunning legs wide open. Her mouth-watering shaved pussy is eagerly anticipating its penetration.
Teasing her a bit by rubbing her lips and clit with his cock before diving in, he finally shoves it nice and slow.
The petite Asian teen grasps for lustful breath as her man's pace keeps increasing. Going harder and deeper with each thrust, her cute little body shakes as each thrust stretches her tiny pussy wider than the last.
His cock is completely soaked with her love juices. He decides its time she got on top once they've moved to the bedroom.
Not wanting to be outperformed, the sexy naked teen immediately starts to bounce on the rock hard cock like a horny little rabbit.
Firmly holding her frail waist with both hands, he takes control and mercilessly rams his groin into her. The slapping sound of their lustful bumps as the throbbing cock stirs up her insides covers the rooms in a sensationally lewd aura.
Switching to doggy style once she's bent over and on all fours, the petite Asian teen struggles to keep up.  Her man's cock relentlessly sends waves of pure pleasure throughout her yummy ass cheeks.
He asks her to stand up, lifts her up from both legs, and starts plowing her on foot.
Their kinky night ends in missionary. Her pretty boobs jiggle along with the rest of her body as the pounding reaches unprecedented levels of roughness.
Her loud moans are interrupted when her partner suddenly stops thrusting his hips. She feels the warm thick load flowing and filling her insides.
Pulling out his cock sends his white cum gushing out of her stretched pussy. Which in turn marks the end of one of the steamiest love making sessions ever recorded.