Mature Hairy Pussy Pumped Full of Cum
Erotic MILF secretary Satsuko Miwa has been married for twenty long years and her kids are already adults now. Why not take some time to relax and have Japan Lust take care of her mature hairy pussy.
During those two decades, her marriage has gone well for the most part. However, her husband being busy all the time and not spending any time with her has definitely taken its toll on the intimacy of their relationship.
It's gotten especially worse in the last couple of years. The seductive MILF says the last time they had sex was three months ago. Even for a couple married for twenty years that is still way too long.
Unlike most other women, Satsuko's sex drive has only gotten stronger with age. Which explains her steamy outfit that can catch any man's eye within a split second.
In true hot secretary fashion, she's wearing a perfectly ironed white shirt covered by an elegant black jacket. The bottom half is your typical racy black miniskirt along with skin-colored pantyhose as the cherry on top of her alluring cake.
Despite all of this, the sad truth is that she's never cheated on her husband even once. Her mature hairy pussy has been getting stretched by just one cock for the better part of her adult life.
This sexual drought has resulted in such a beautiful woman turning to masturbation to satisfy her needs. Using her fingers to fill the literal hole that's been left empty because of her neglectful partner.
Things have gotten to the point where she's rubbing one out twice or three times every single week. All in the hopeless attempt to quench her mature hairy pussy's thirst.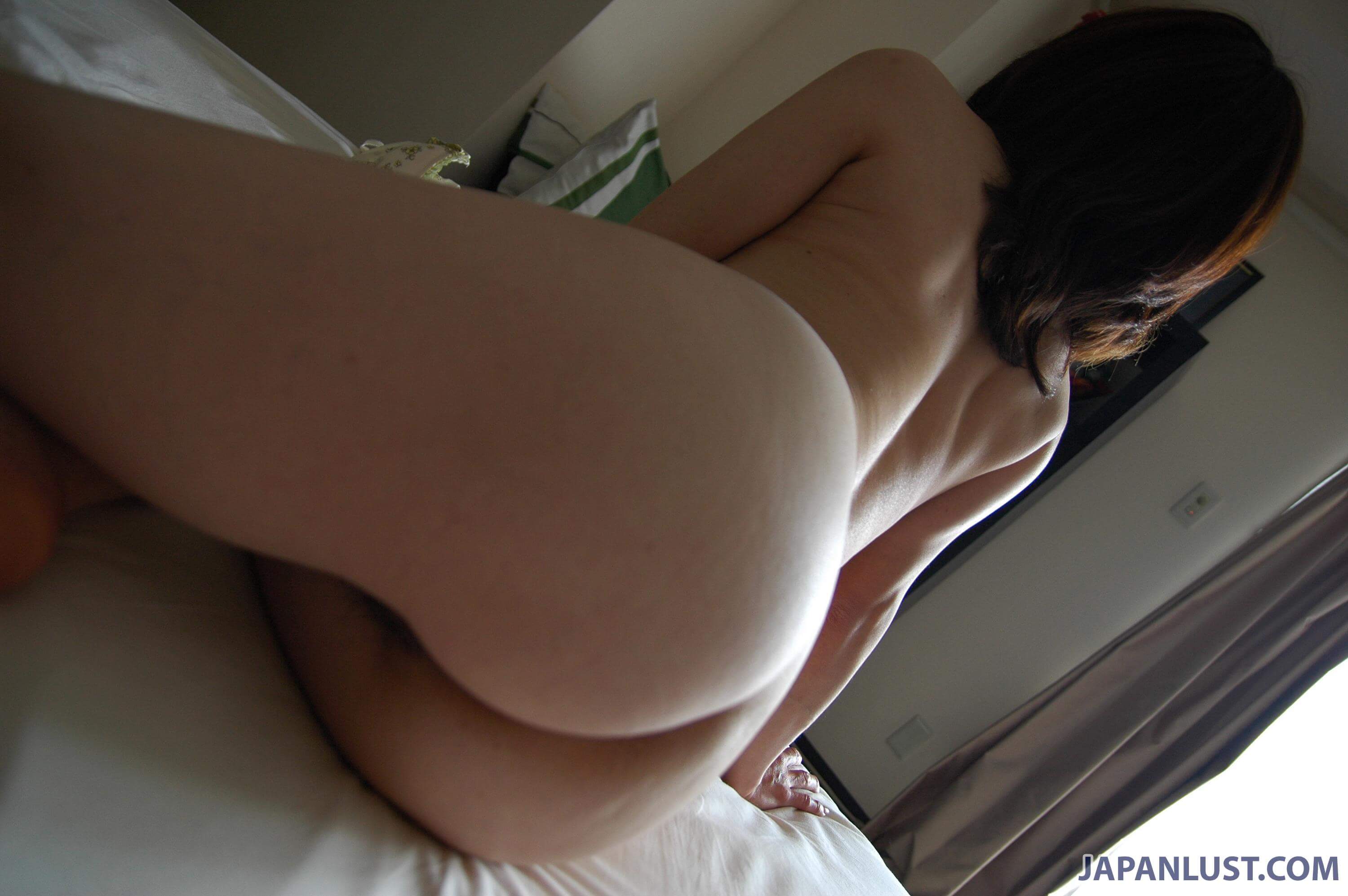 A body that hasn't aged at all
Hearing the sad story behind her choice to come to us, we simply can't let her go tonight without giving her a sensational hour of passionate lovemaking that's enough to compensate for all those years of sexual oppression.
Asked to start things off by getting those pesky clothes out of the way, she enthusiastically obliges.
Once she takes off her jacket, the true size of her big boobs is revealed. It gets even better once the shirt itself is gone and the sexy green and white bra holding the perfect pair is waiting.
Satsuko kindly jerks her man off a bit to prepare for the feast she's about to present to his eyes.
The majesty of those big firm tits is finally upon us as the lovely MILF unhooks her bra.
Lifting up her skirt exposes her beige panties. Even with the panties on, it's clearly just how big of a bush her mature hairy pussy has.
Fervidly getting on her side and posing for the camera, her fleshy voluptuous ass is a treat for his hand. Caressing and groping it as he pleases.
Now that he realizes what a great ass she has, he decides to run with something other than his hand.
He has her stand up and drop her skirt, then sits on the couch and invites her to give him an assjob.
Settling her yummy ass on his cock and tugging it between her cheeks, she erotically slides up and down before deciding to go with a more direct approach.
The lewd MILF stands up and takes off her panties and pantyhose. She takes her seat in her man's lap once more, this time giving him a direct contact assjob that's sure to turn his cock into stone.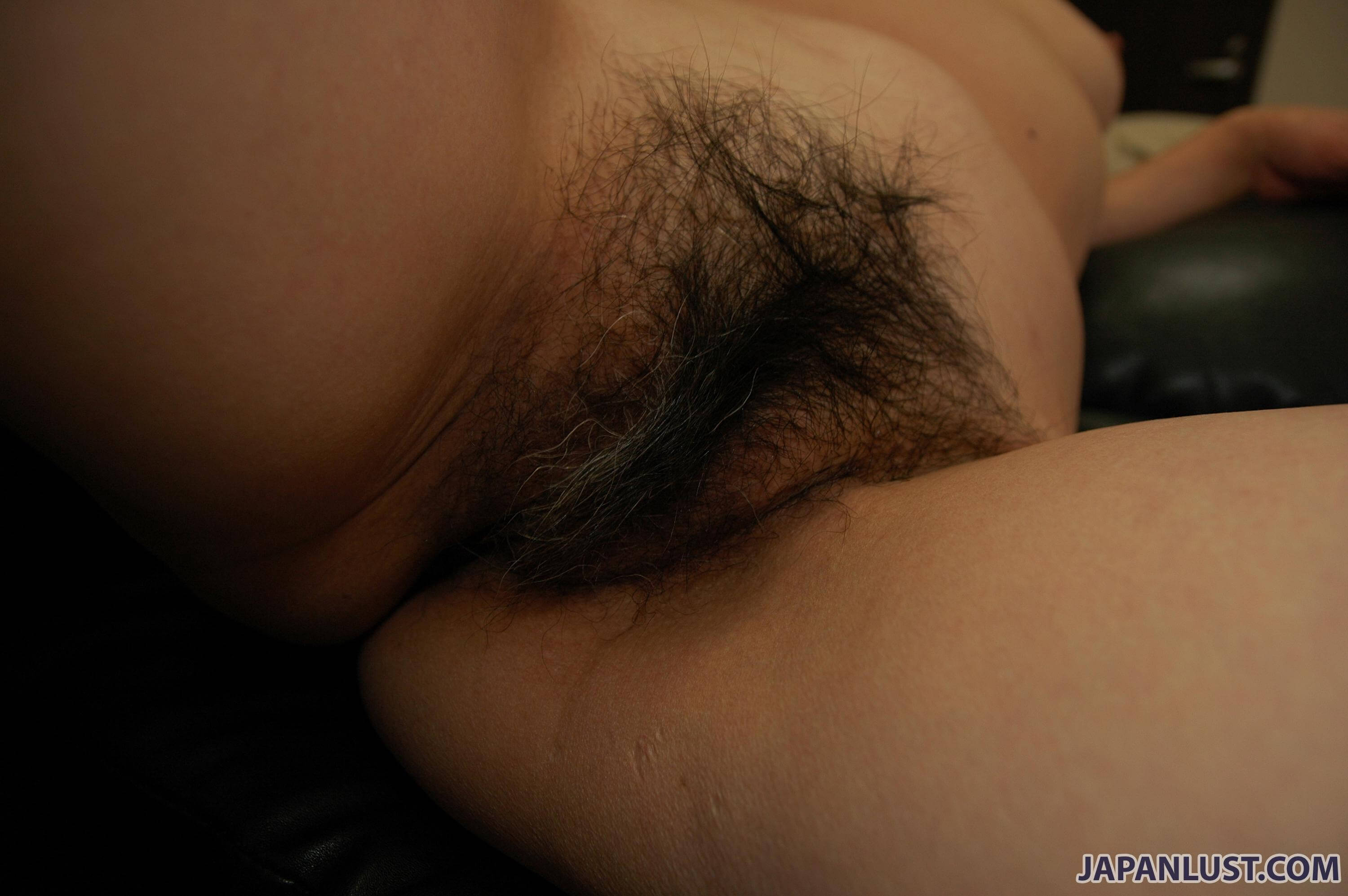 Mature hairy pussy with a massive bush
Done with her sensual assjob, Satsuko sits back down to allow us to examine her mature hairy pussy.
Spreading her legs exposes a huge untrimmed bush above and around her luscious pussy lips. The patch of gray hair to the bottom of it adds an irresistible mature charm to this perfect pussy.
The minute she spreads her lips open to show off her lustful pink hole, the urge to eat her out completely takes control of her man's mind.
Ravaging the mature hairy pussy with his tongue, his nose is deeply buried into her heavenly bush.
Next comes out a pink rotor. Mercilessly stimulating her sensitive clit as her man strongly pushes it against it, the gorgeous MILF quivers and moans as she lasciviously and tightly grabs onto her man's arm in raw sexual satisfaction.
His fingers get their turn as well. Simply touching the soaking wet pussy lips is enough to drown his fingers in her sticky lustful love juices.
The appetizing scenery is just too good not to taste. His lips meet her pussy's once more as his saliva and her juices mix together inside her mature hairy pussy for a lewd cocktail of pure desire.
Getting his nubile guest in a better position for pussy eating he asks her to hop on the bed.
Satsuko gets on all fours and brings her delicious ass up for her man to pleasure her even further.
Tongue once again sliding on her lips and drilling her hole, the difference this time is that he gets to bury his nose in her pulsating tight little asshole.
Her final violator is a Baibu. Shoving the rotating head hard and deep before turning it, he innovatively uses the attached clit stimulator on her lewd asshole instead.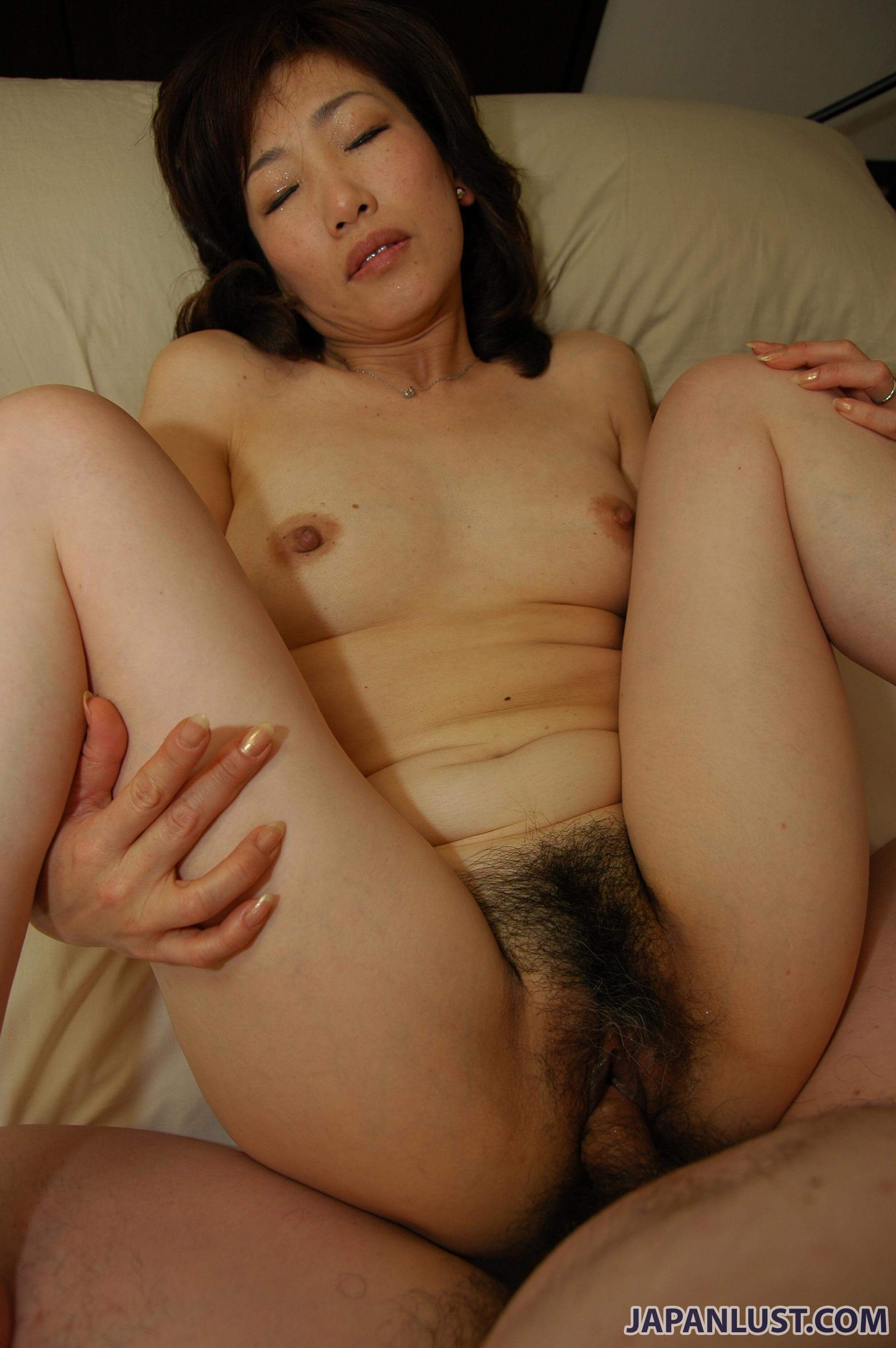 The night that she deserves
With her mature hairy pussy relentlessly aroused with one tool after the other, the horny MILF collapses on the bed, needing some time to gain back control of her body.
"That was amazing!" she says quietly as she pants. Her man has put her on cloud nine, and what lady wouldn't return the favor?
He lies on his back, and she immediately gobbles the cock with no introductions.
Sweet lips and lush tongue work together to bring the blowjob to perfection. Satsuko licks the hard cock like a mad dog, and swallows the large head so deep that she can feel the tip hitting the back of her throat.
A minute of passionate kissing serves as a transition between foreplay and penetration.
The enchanting secretary gets on her back and spreads her perfect legs. Her mouth-watering mature hairy pussy is eagerly awaiting the feeling of a hard throbbing cock stretching it beyond its limit.
Teasing her pussy lips with his cock, she is never going to be more ready than right now.
Gradually building up pace, he goes in for more erotic kissing as he drills her hole with his rod.
Her gorgeous big tits switch from jiggling to bouncing as she's giving the top position. The lustful cowgirl knows no limits as she rapidly thrusts herself up and down the pole.
There's no getting enough of the view of her perfect boobs as they dance, but there are other features to enjoy before the night ends.
Satsuko bends over one last time, bringing her delicious ass back for more pleasuring.
The hardcore slaps of his groin on her yummy ass cheeks sends waves of lust through them. And the arousing view proves too much for her man to handle, as he fills her mature hairy pussy with hot seed.