Japanese Wife Porn with Shizue Miyamura
Veteran MILF Shizue Miyamura is looking to jumpstart a late adult career by shooting her first Japanese wife porn scene with Japan Lust.
15 long years she's stuck with her husband through thick and thin. Sacrificing everything she could to bring up her son. It's about time she found someone to take care of her needs.
She still has sex with her husband twice or three times a week. Which isn't bad, but isn't much either, and obviously not enough to satisfy the lust of this mature woman.
When asked if sex with her husband has been fulfilling enough, a hesitant "barely" is Shizue's sad answer. We feel for this neglected beautiful MILF.
Drifting away from the topic of sex, we find out that her hobby is cooking. Especially when it's her favorite meal, Gyouza (Japanese potstickers/dumplings). Isn't she just the perfect wife?
When it comes to personality and lifestyle, she describes herself as a "my pace" kind of person.
All she asks of her perfect man is to be kind and caring; she's not one with impossible standards. When she says that the worst men in her opinion are those who cheat on their partners, we kinda get a glimpse into what might have incentivized her to shoot a Japanese wife porn scene.
Going back to the naughty stuff, she tells us that she considers herself closer to the masochist side of a relationship, but not with a large margin.
As for libido, this horny MILF considers her sex-drive to be that of a 20-year-old. If she isn't pounded nearly daily, she's willing to quench her hairy pussy's thirst with her own hands.
Fantasizing about being used by a stranger to pleasure his cock, this submissive woman always gets herself to cum fast and hard.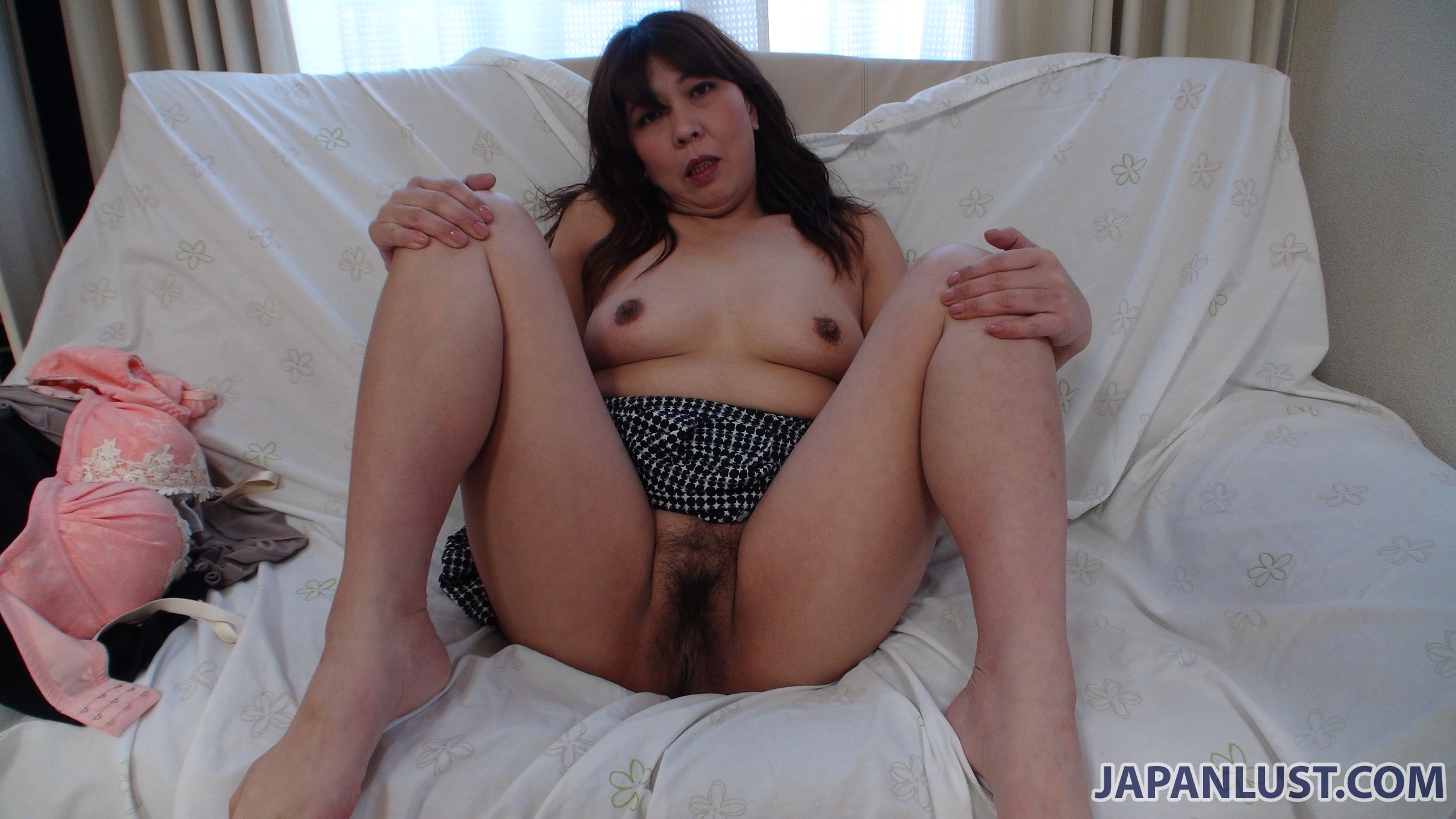 She likes it raw
Lewd Shizue likes her cocks raw and despises condoms. She also likes her cum inside, none of that soft facial stuff. It's creampie or bust for this horny MILF. Putting her on top and letting her ride like the slutty cowgirl she is, it's a surefire way to get her to cum like crazy.
She says that getting her man to fill her mature pussy with his load is more satisfying than her reaching climax. We're sure in for a wild ride with this libidinous woman.
In order to get the ball rolling, we first need to take our time and examine her nubile body.
The lucky guy tasked with pleasuring her today asks her to head towards the bed and bend over on all fours.
Lifting the one-piece reveals a perfect tight ass covered by slutty transparent white panties. She then lies on her back and drags the one-piece all the way up, showing us her steamy white bra.
Now on tummy, her man drags down the pantyhose in order to allow us to revel in the beauty of her bare ass in panties. But he soon takes his focus upstairs, taking both her one-piece and her bra off simultaneously. A pair of plump tits with puffy big nipples are exposed.
He teases her erect nipples with his fingers for a bit before having her sit down and remove what's left of the pantyhose.
Caressing her all over her amazing body and fondling her perky tits as he reaches down to her tight hairy pussy, the hot MILF's panties are already soaking wet.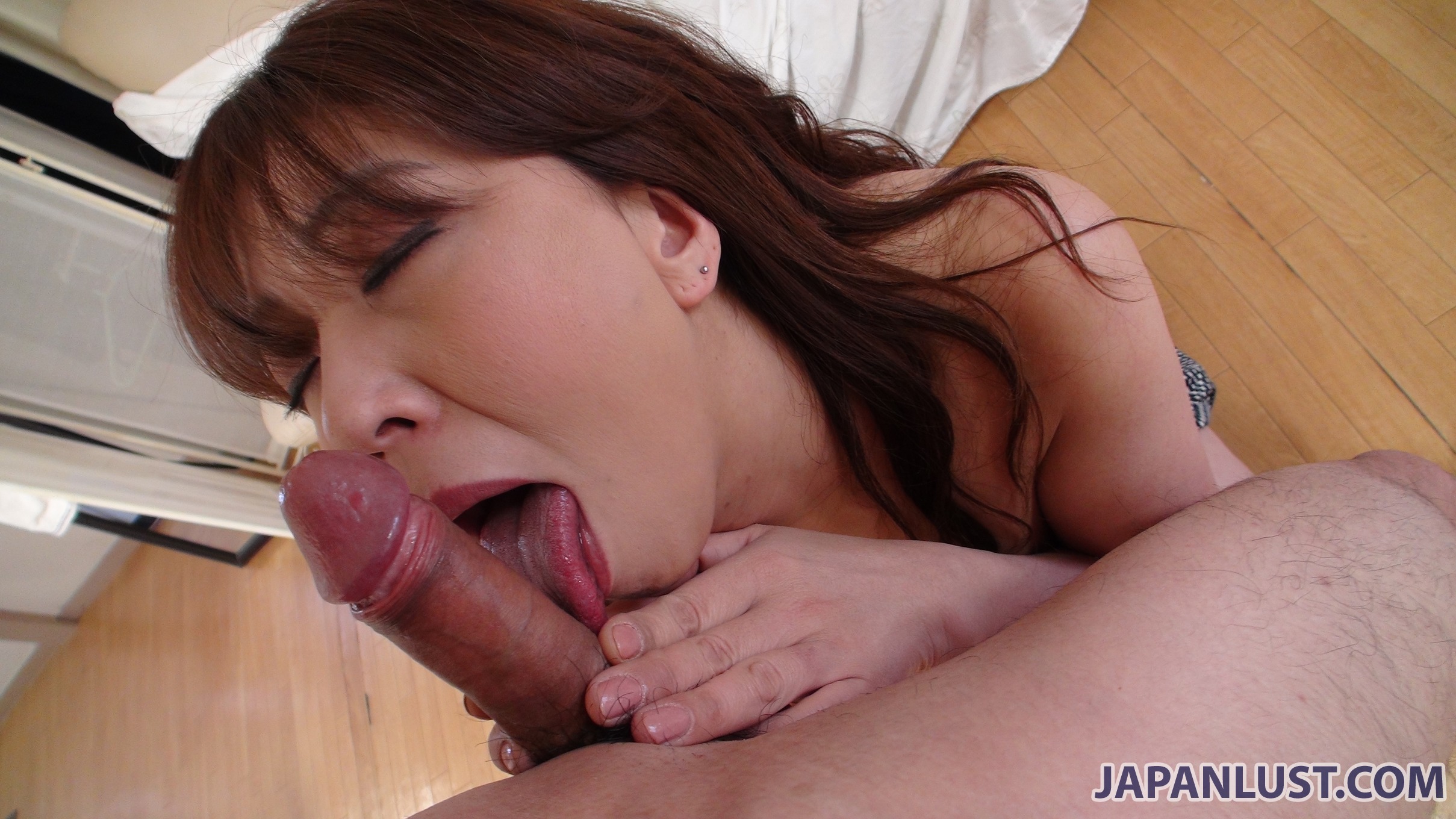 Covering all the bases
But what sort of Japanese wife porn scene doesn't a fresh hairy pussy getting fingered? They need to fix that, and so he takes off her moist panties to reveal a pair of fresh pussy lips soaked in love juices.
Once the luscious lips are brought to the side, a lustful pink hole awaiting pleasure is exposed.
Stimulating her sensitive clit before diving in, he shoves his fingers all the way inside her hole.
The sound of the lustful fluids inside her getting stirred up by her man's fingers makes her twitch and moan with infinite satisfaction. Shizue's already aroused out of her mind.
Heavenly legs spread wide open; her man pulls out his fingers and goes in with his mouth.
Devouring the erotic MILF's tight hairy pussy like it was his last meal on earth. His slick tongue slides up and down the lips, as its tip flicks her delicate clit.
He flips her and bends her over to have a better position for his tongue to dive deep inside her hole.
To add an extra punch to this Japanese wife porn scene, after having eaten her out for quite some time. The guy brings out the holy denma.
With an incredible one hand technique that she most definitely did not expect, he shoves two fingers deep inside her pussy, while using the rest to command the vibrating denma and push it hard against her clit.
She's struggling to catch a breath as her erotic sounds fill the room with a mist of lewdness. The sensational babe's mind is no longer her own as she goes high on her own hormones.
This deranged lustful feeling is exactly why she wanted to do a Japanese wife porn scene in the first place.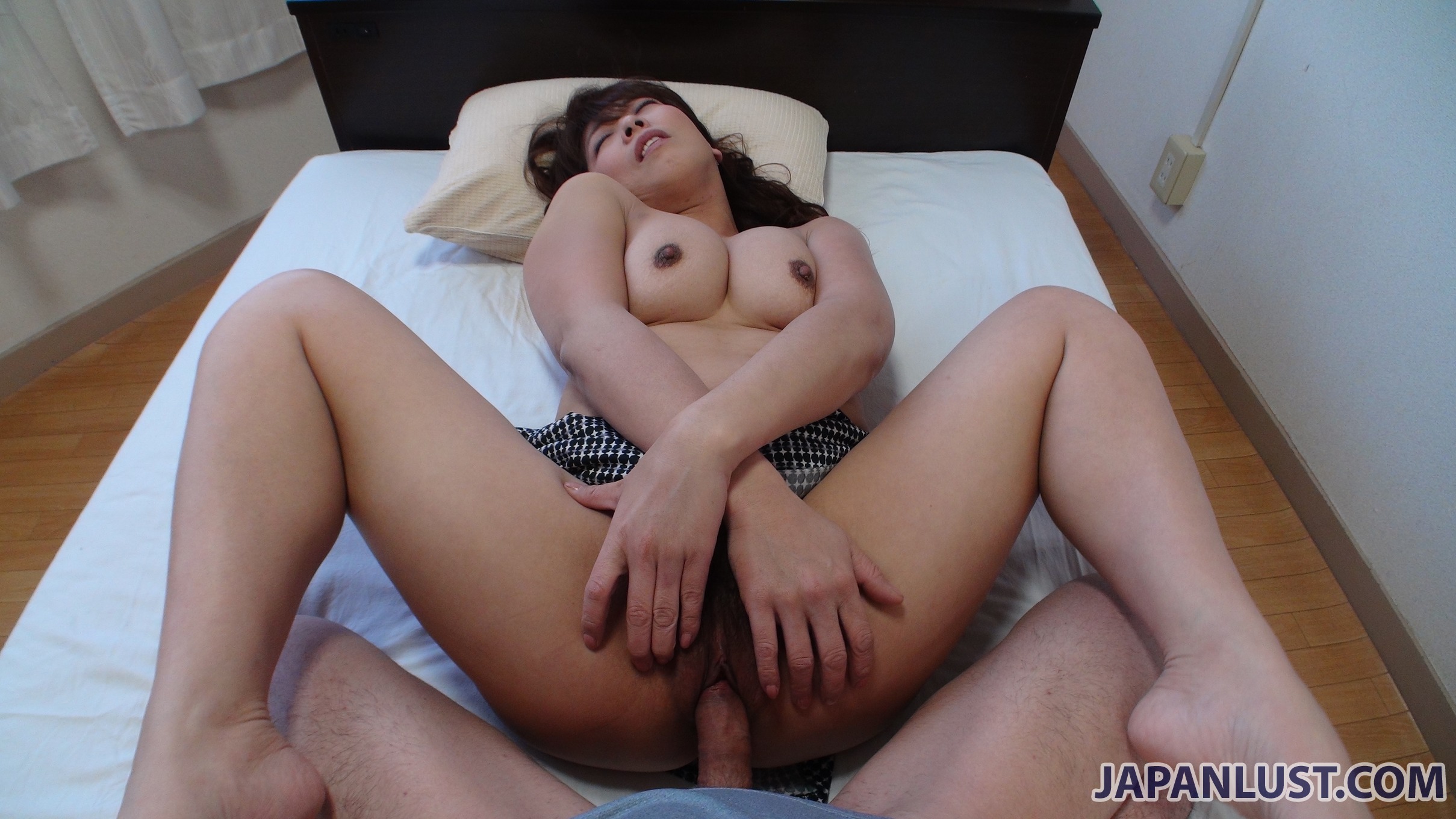 The perfect Japanese wife porn scene
He has her lie down again and continues to rub her cunt with the denma before moving upwards.
Groping and fondling her majestic tits, he takes a few sucks out of her delicate nipples before handing her his rock solid cock.
A masterful professional herself, Shizue makes use of her sweet lips and flexible tongue to satisfy the wanting rod. Her ball-busting technique of using her pretty mouth turns the heat to eleven on this sensual fuck session.
Lying down once again, her stunning legs are spread wide open.
The cock goes in hard and fast without any introductions. Adding to the lewd scenery is her panties still being lasciviously stuck to her ankles as she's getting rammed.
Her gorgeous jiggly boobs dance as his hips thrust faster and stronger. Erotic moans grow louder as she's pummeled out of her mind.
Switching the semen demon to her side and folding her legs allows us to fully appreciate that perfect pussy getting cute pink from all the rough friction.
This ever-improving Japanese wife porn scene keeps getting better. As Shizue is bent over and pounded in doggy style.
Both being the professionals that they are, they switch from doggy style to reverse cowgirl without him even pulling out his cock.
The hard cock also remains inside her warm pussy hole as she rotates to become a real cowgirl. Bouncing those marvelous boobs as she herself jumps up and down the pole.
Even Japanese wife porn as cock hardening as this has to come to an end. Staying true to their style, he keeps his cock in as they go for one last round of missionary.
With him finally reaching his limit, a huge load of hot cum flows in for the perfect creampie to fill her tight pussy.