Busty Asian Milf Masterfully Rides Dick
The tiny hotel chair can barely fit this busty Asian milf big ass and wide hips. Today's Japan Lust guest Yuki Omura is prepared to have her perfect tits and tight hairy pussy taken care of.
Blessing the camera with a super seductive outfit, composed of an extremely tight fitting white shirt that looks ready to burst because of how hard her big boobs are stretching it, along with an elegant jacket and a steamy black miniskirt. Arousing black pantyhose top off the insanely erotic combination.
Her reason for getting herself drilled and creampied today isn't at all about the money, but simply because she's horny and bored, and wants someone to fulfill her sexual needs.
Married for a few years now, the busty Asian milf says she always finds herself with too much time on her hands. And it doesn't make matters better when her husband is the exact opposite, so busy with work all the time that she barely sees him let alone rides his cock.
Even though she looks like one naughty cougar with those glistening lustful lips, she says she's never been interested in maintaining a long-lasting affair.
Answering our question on whether she masturbates, Yuki simply replied: "Any woman, who says she doesn't know how to rub her pussy, or that she doesn't know about masturbation, is a complete and utter liar. Every single woman has done it before at least a few times, and most of them including myself do it regularly".
Regularly groped and molested because of how hot she is, the busty Asian milf says she doesn't really enjoy it, but doesn't hate it either.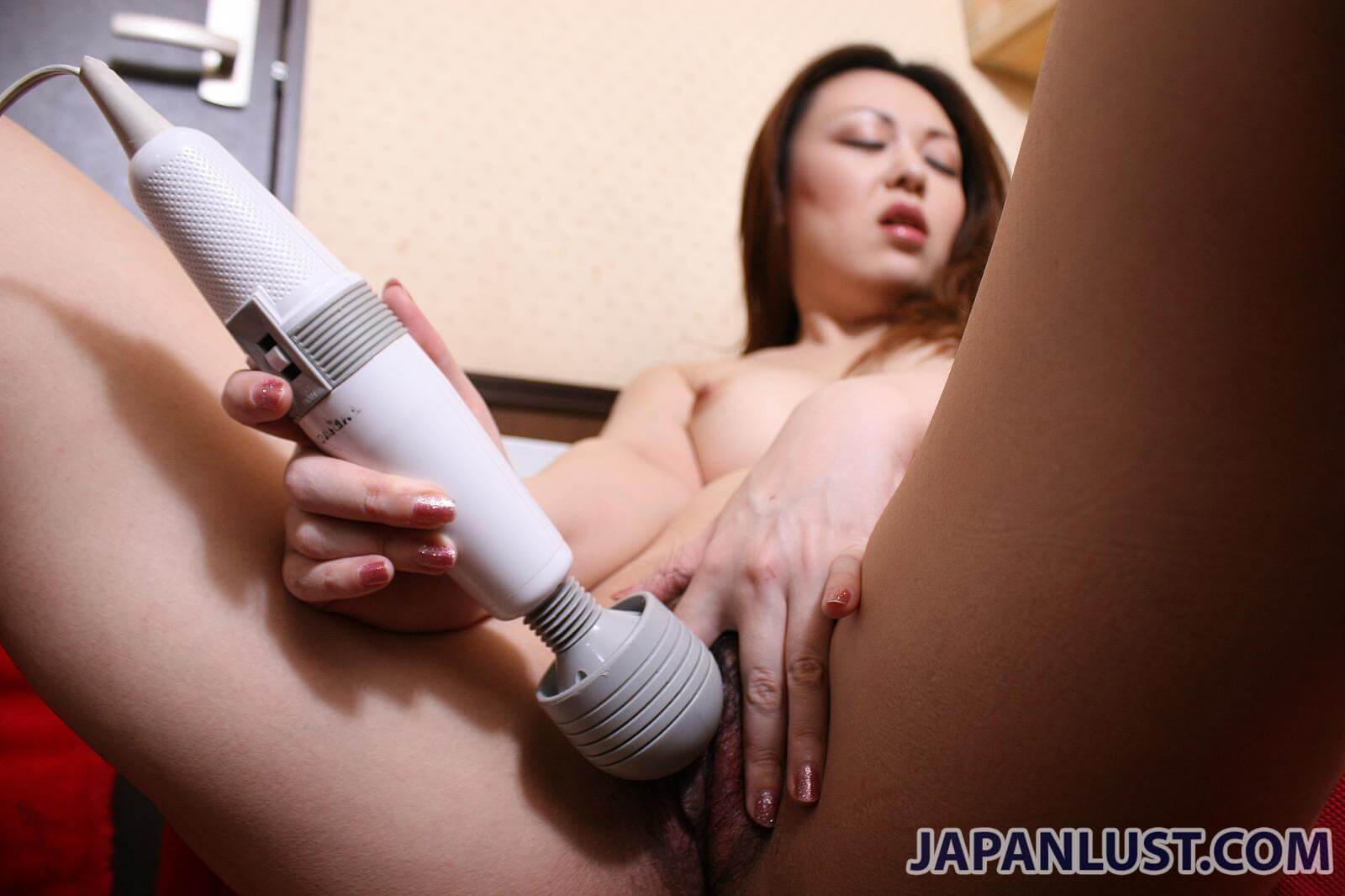 A denma girl
As is the case most of the weekdays, her husband said he'd be late to return from work tonight. So she wanted to capitalize on her opportunity and fill her mature pussy with a nice hot creampie behind his back.
She calls herself a denma girl; it's simply the most effective toy to stimulate her clit.
On her birthday she was gifted one and she's been frequently using it ever since. Her husband barely ever coming home makes it perfect as he has no idea how many times his horny wife satisfies herself without the need for his cock.
They never actually use any sex toys when they fuck. The busty Asian milf thinks it's because her husband is afraid he can't compete with them.
We ask her to start stripping for us, and she gladly grants our wish.
Once the jacket is off, the true majesty of her big boobs is easier to appreciate. And it gets even better after she unbuttons the shirt itself, revealing her racy black and red bra.
Miniskirt and pantyhose follow suite, and erotic black panties held together by a string are revealed.
But nothing even remotely compares to the arousing sight of her naked mature boobs once she unhooks her bra. She says they're e-cups, but she's obviously trying to be humble.
Her panties are dropped and the busty Asian milf exposes her tight hairy pussy. She's finally to use her favorite toy for our entertainment.
Pushing the vibrating head of the denma straight against her sensitive clit, she quickly starts to twitch and moan as the stimulation sends shocks of pleasure through her body.
Yuki loses control of herself, and piss comes flowing out as she approaches a sensational climax.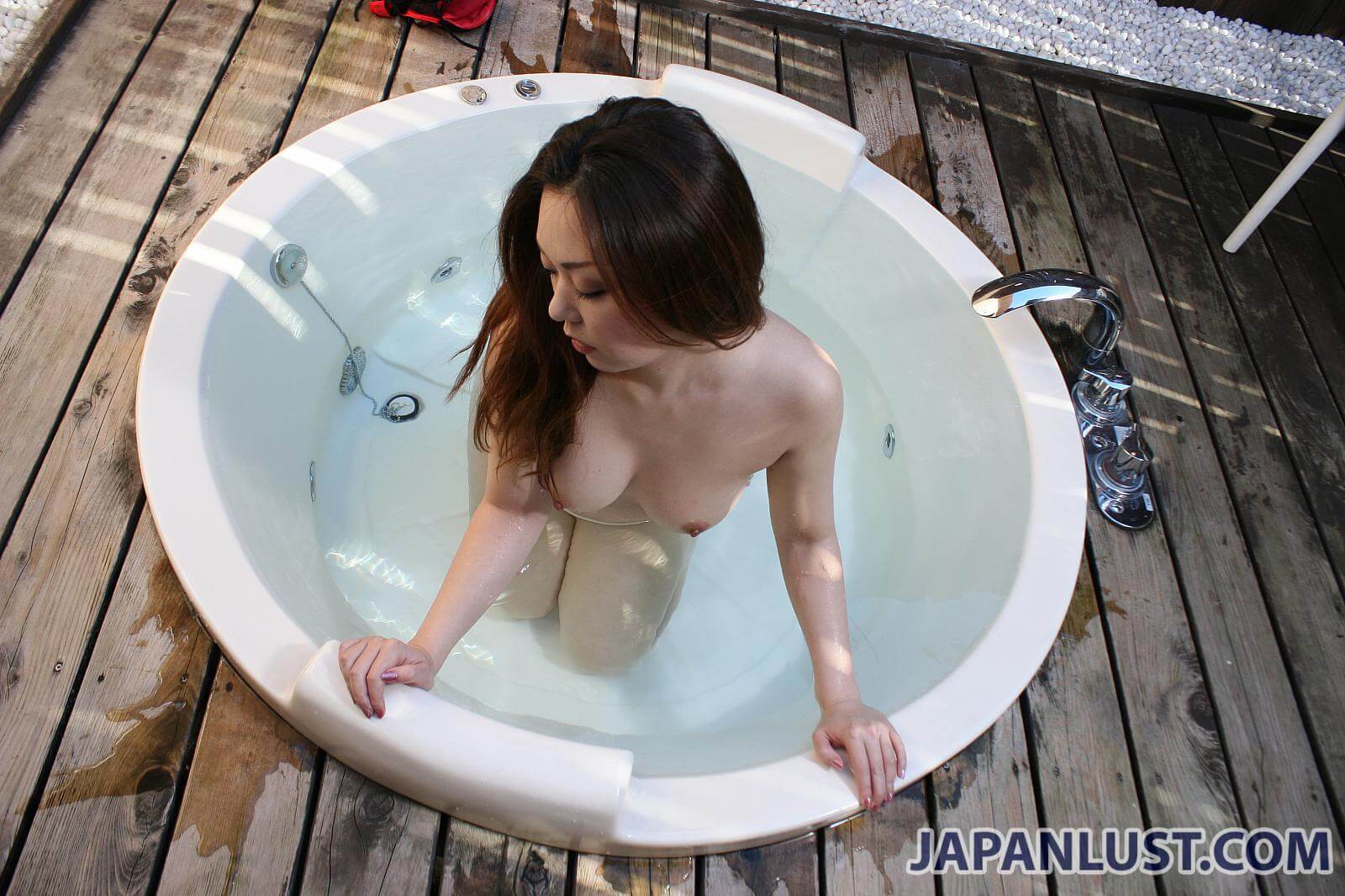 A bath with a goddess
Now that she needs to clean herself after the amazing feeling led her to pissing, the busty Asian milf hops in the bathtub.
"Oh for sure!" is her reply when this lucky guy asks her for a blowjob.  And with no preparation from her hands, she hurriedly traps the wanting cock head with her sweet lips.
Her pretty mouth rotates between licking and sucking while her hand is working the shaft. The cock is turned rock hard and happily red in no time.
Apparently, she equally enjoys pleasuring her man and getting pleasure herself. She also likes her tight hairy pussy to be pounded just right, not too rough, not too soft.
The busty Asian milf is soon done with the bath, but not remotely done with his cock. They head to the bad to get down to business.
Back to swallowing the cock, now even deeper, she lewdly slurps as her luscious lips slide all over the rod. Making sure to use all her assets, her slick tongue goes for many lascivious licks.
What a ball-busting technique, running her pink lips up and down the shaft while rubbing the tip with her finger. The guy is going out of his mind.
He's got a lot to compete with if he wants to make her feel just as good as he did getting that blowjob.
Lying on her back and spread open, he sensually nibbles on her chest and neck, resulting in incredibly erotic moans from the busty Asian milf.
Finally getting his hands of those gorgeous big tits of hers, he squeezes them and sucks on the erect nipples as if it was his last moment on this earth.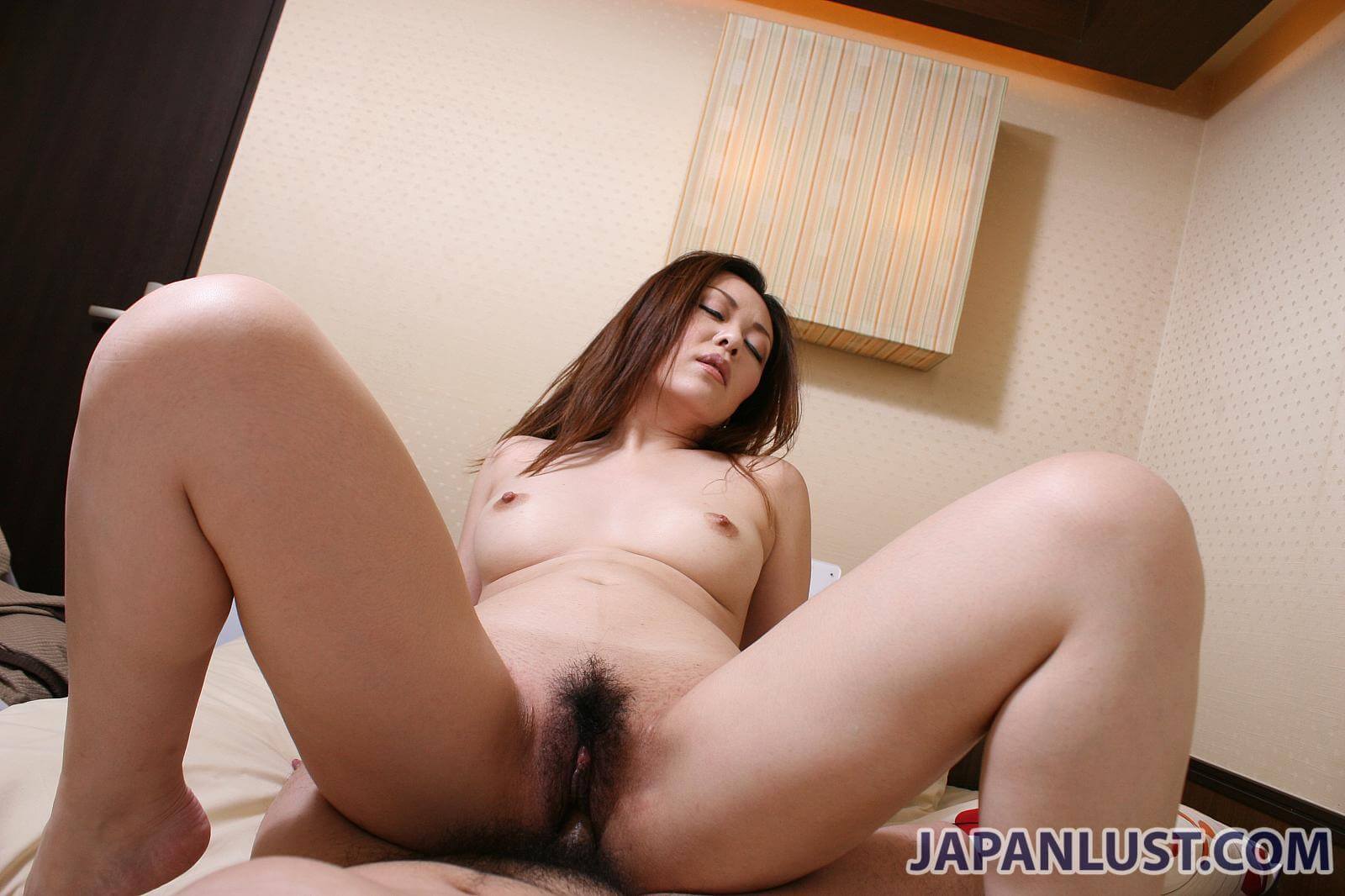 Pounding the tits off of this busty Asian milf
In order to prepare her tight hairy pussy for what's to come, he mercilessly ravages it with his mouth. Sucking on the lush pussy lips while his tongue reaches deep into the lustful hole.
There's no way he can keep this going any longer though, he has to drill this perfect busty Asian milf before her sexual prowess brings him to his inevitable limit.
Not needing to change her position, he teases her anticipating pussy before shoving his cock balls deep. And with no regard for pacing, he thrusts as fast as a madman right off the bat, making her plump tits sensually jiggle.
He helps the nubile beauty up to give her the top position. And is beyond pleased to know just how good of a cowgirl this naughty and busty Asian milf is.
Sliding her pussy on the cock like a true professional, she then leans back and jumping up and down the stiff rod.
Now back up and still humping like crazy, the heavenly pair of tits bounce to the movement of this slutty babe.
But her tits aren't the only part of her that can bounce. Once she rotates for a reverse cowgirl her delicious big ass is just as sensational.
The busty Asian milf gets off the cock and on all fours. Her man is back inside stretching her pussy.
A much stronger pummeling starts, making the stunning naked woman scream in pure pleasure. Her yummy ass cheeks wiggle to the beat of his groin bumping into them.
They end up back in missionary once again, with him stirring her insides harder than ever before.
Forced to finally empty his balls, he fills her tight hairy pussy with his hot seed.
"Call me if you ever become good at this" is her final disappointed reaction.