Japanese Wife Saves Her Marriage with a Creampie
When the first word to come out of the mouth of a hot Japanese wife after greetings is "I'm here to shoot my first porn scene, I'm here to get pounded", you know you're in for one hell of a ride.
Mayuko's marriage has not been going good at all. She's hoping Japan Lust can help her save it, before it's too late.
Her husband is your typical Japanese salaryman who barely remembers where his house even is. She says it's pretty bad, just not bad enough to give her the courage to ask for a divorce.
Things are the same when it comes to the naughty business as well. Her husband's cock is apparently pretty average. Although she's generous enough to say it's more on the big side, it's easy to tell she's just trying to preserve her husband's pride.
What makes matters worse is the fact that the couple have no children. Which means fewer commitments to hold them back from seriously considering separating.
Another factor causing Mayuko distress is the fact that she's a stay-at-home wife. She has no job or hobby to take her mind off of her failing marriage or her careless husband.
The first time she ever had sex was when she was eighteen years old. A bit late in this day and age, but normal for her generation.
She's only had three different cocks inside of her throughout her entire life, which is way too little, add this to her failing marriage, and it's easy to see why this mature woman is truly in a position no one would envy.
Perhaps a night with a young man doing his best to satisfy her lustful desires and fill her tight hairy pussy with a hot creampie, will be just what she needs to save her marriage.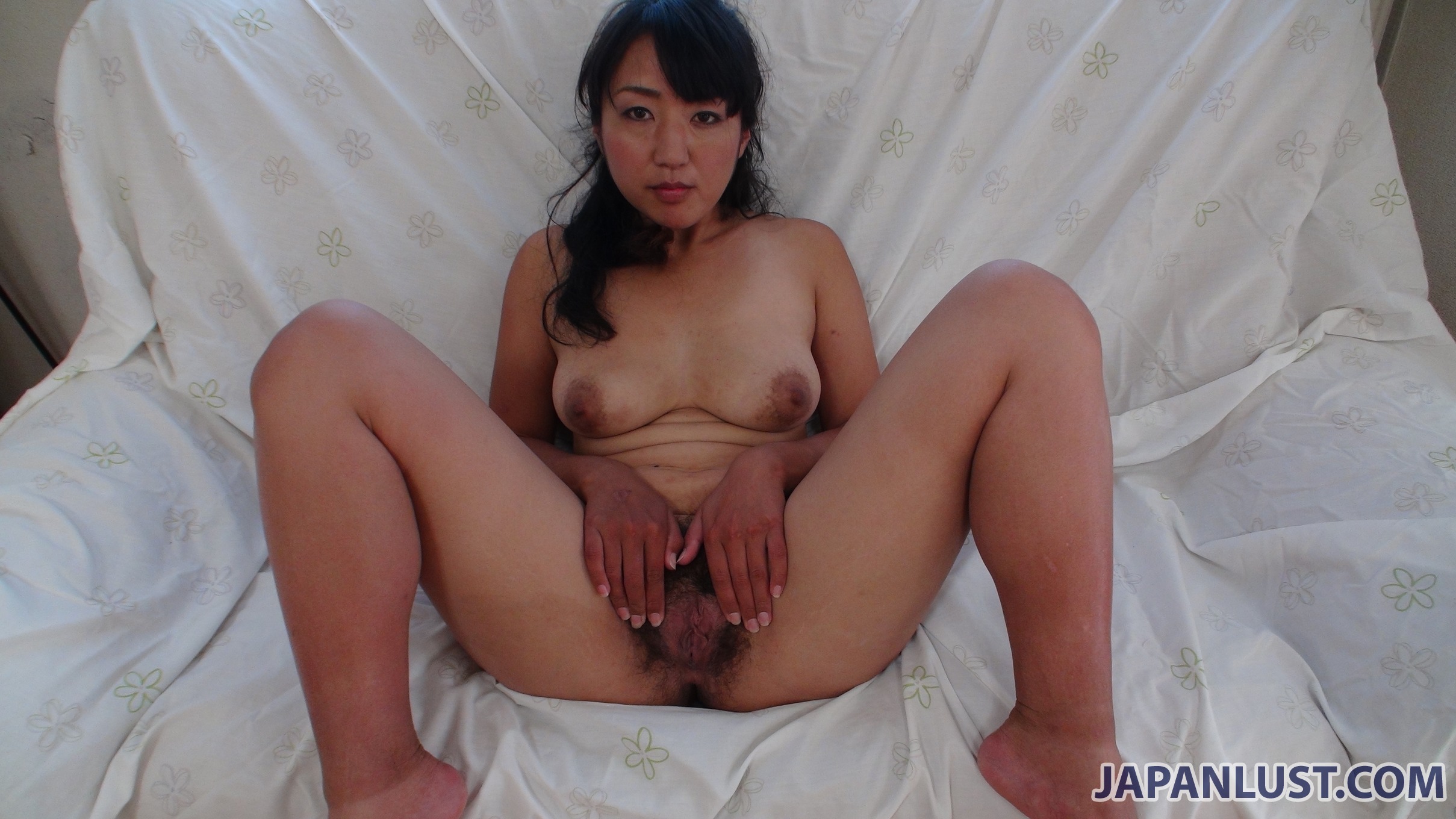 A hairy pussy to feast on
In a lewd turn of events, her interviewer asks her to reach beneath her black one-piece. His request is that she takes off her racy red panties and hand them over so he can wear them on his head.
As is the case most of the weekdays, her husband said he'd be late to return from work tonight. So she wanted to capitalize on her opportunity and fill her mature pussy with a nice hot creampie behind his back.
She calls herself a dildo girl; it's simply the most effective toy to stimulate her clit.
On her birthday she was gifted one and she's been frequently using it ever since. Her husband barely ever coming home makes it perfect as he has no idea how many times his horny wife satisfies herself without the need for his cock.
They never actually use any sex toys when they fuck. The Japanese wife thinks it's because her husband is afraid he can't compete with them.
We ask her to start stripping for us, and she gladly grants our wish.
Once the jacket is off, the true majesty of her big boobs is easier to appreciate. And it gets even better after she unbuttons the shirt itself, revealing her racy black and red bra.
Miniskirt and pantyhose follow suite, and erotic black panties held together by a string are revealed.
But nothing even remotely compares to the arousing sight of her naked mature boobs once she unhooks her bra. She says they're e-cups, but she's obviously trying to be humble.
Her panties are dropped and the Japanese wife exposes her tight hairy pussy. She's finally to use her favorite toy for our entertainment.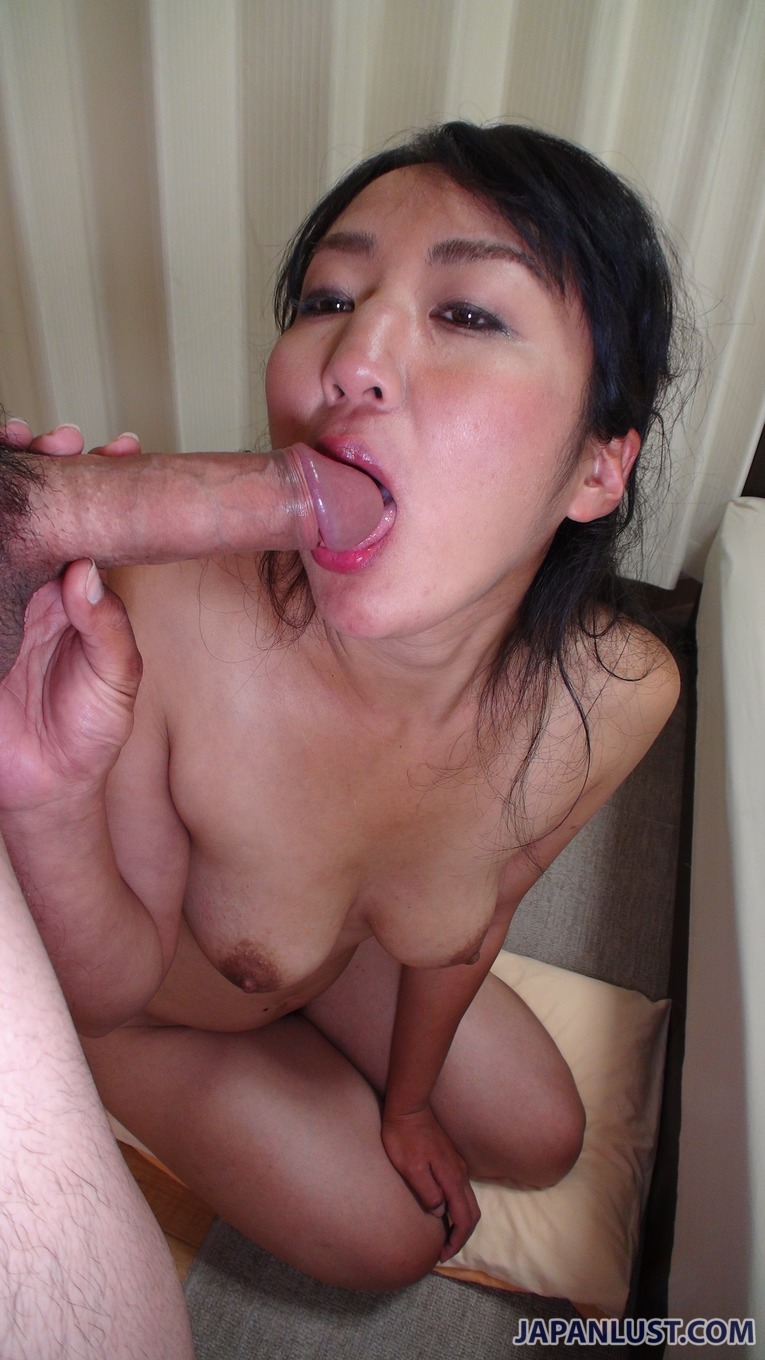 The perfect mature body of a Japanese wife
Pushing the vibrating head of the denma straight against her sensitive clit, she quickly starts to twitch and moan as the stimulation sends shocks of pleasure through her body.
Mayuko loses control of herself, and piss comes flowing out as she approaches a sensational climax.
Now that she needs to clean herself after the amazing feeling led her to pissing, the Japanese wife hops in the bathtub.
"Oh for sure!" is her reply when this lucky guy asks her for a blowjob.  And with no preparation from her hands, she hurriedly traps the wanting cock head with her sweet lips.
Her pretty mouth rotates between licking and sucking while her hand is working the shaft. The cock is turned rock hard and happily red in no time.
Apparently, she equally enjoys pleasuring her man and getting pleasure herself. She also likes her tight hairy pussy to be pounded just right, not too rough, not too soft.
The Japanese wife is soon done with the bath, but not remotely done with his cock. They head to the bad to get down to business.
Back to swallowing the cock, now even deeper, she lewdly slurps as her luscious lips slide all over the rod. Making sure to use all her assets, her slick tongue goes for many lascivious licks.
What a ball-busting technique, running her pink lips up and down the shaft while rubbing the tip with her finger. The guy is going out of his mind.
He's got a lot to compete with if he wants to make her feel just as good as he did getting that blowjob.
Lying on her back and spread open, he sensually nibbles on her chest and neck, resulting in incredibly erotic moans from the Japanese wife.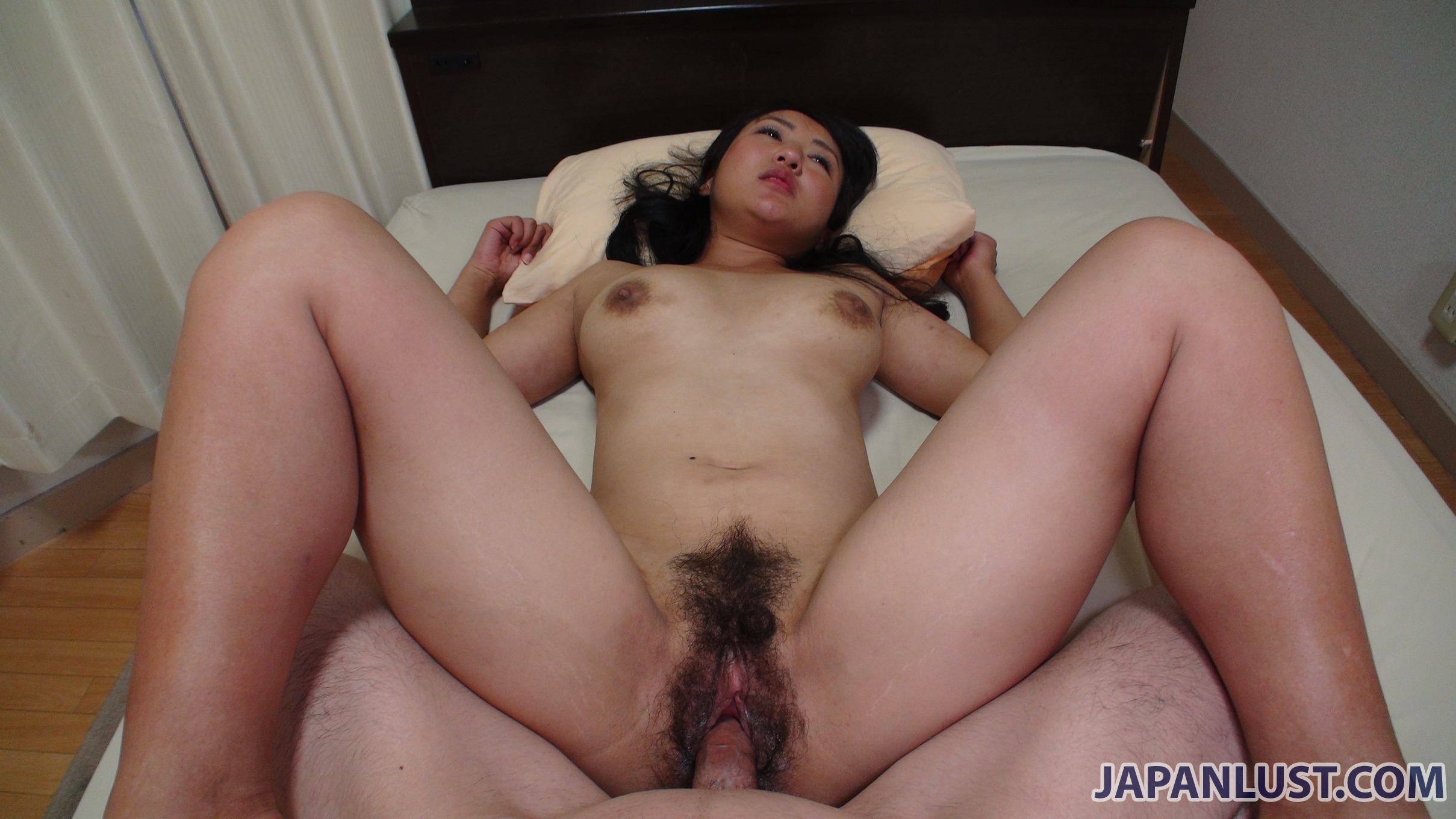 A creampie to save her marriage
Finally getting his hands of those gorgeous big tits of hers, he squeezes them and sucks on the erect nipples as if it was his last moment on this earth.
In order to prepare her tight hairy pussy for what's to come, he mercilessly ravages it with his mouth. Sucking on the lush pussy lips while his tongue reaches deep into the lustful hole.
There's no way he can keep this going any longer though, he has to drill this perfect Japanese wife.
Not needing to change her position, he teases her anticipating pussy before shoving his cock balls deep. And with no regard for pacing, he thrusts as fast as a madman right off the bat, making her plump tits sensually jiggle.
He helps the nubile beauty up to give her the top position. And is beyond pleased to know just how good of a cowgirl this naughty and Japanese wife is.
Sliding her pussy on the cock, she then leans back and jumping up and down the stiff rod.
Now back up and still humping like crazy, the heavenly pair of tits bounce to the movement of this slutty babe.
But her tits aren't the only part of her that can bounce. Once she rotates for a reverse cowgirl her delicious big ass is just as sensational.
The Japanese wife gets off the cock and on all fours. Her man is back inside stretching her pussy.
A much stronger pummeling starts, making the stunning naked woman scream in pure pleasure. Her yummy ass cheeks wiggle to the beat of his groin bumping into them.
They end up back in missionary once again, with him stirring her insides harder than ever before.
Forced to finally empty his balls, he fills her tight hairy pussy with his hot seed.