Brunette Cougar Has Some Daddy Issues
Sexy brunette cougar Mayu Takagi talks to Japan Lust about her married life before taking her clothes off and riding cock.
She's a stay-at-home wife, a very rare item nowadays. She fell in love with cooking ever since she got married, and enjoys doing it while waiting for her husband to return home from work so she can surprise him with a meal full of love, what a perfect wife (except for the part where she cheats on him with a man she just met, and does it on camera for thousands of other men to jerk off to as well).
It doesn't take a genius to deduce that Mayu's got a few daddy issues going around. Before she got married, she only dated men who are 10 years older than her or more, her husband is one of those as well.
Her relationship with her husband has been full of love ever since they met, and she insists that she's still madly in love with him to this day, even though her presence here kinda ruins that theory.
Perhaps she was pushed into doing this by how abysmal their sex lives together has become over the years, they barely fuck twice a month, and that's when everything is going perfect.
Contrast that to their young dating days when they used to fuck each other multiple times per week, and you'll figure out why she's so desperate for cock that she's willing to fuck a guy who isn't as old as her dad for the first time in her life.
It's unfortunate for their marriage that things are turning out this way, but it's very fortunate for our camera. Her partner tonight will make sure Mayu leaves satisfied with lots of cum in her pussy to take home.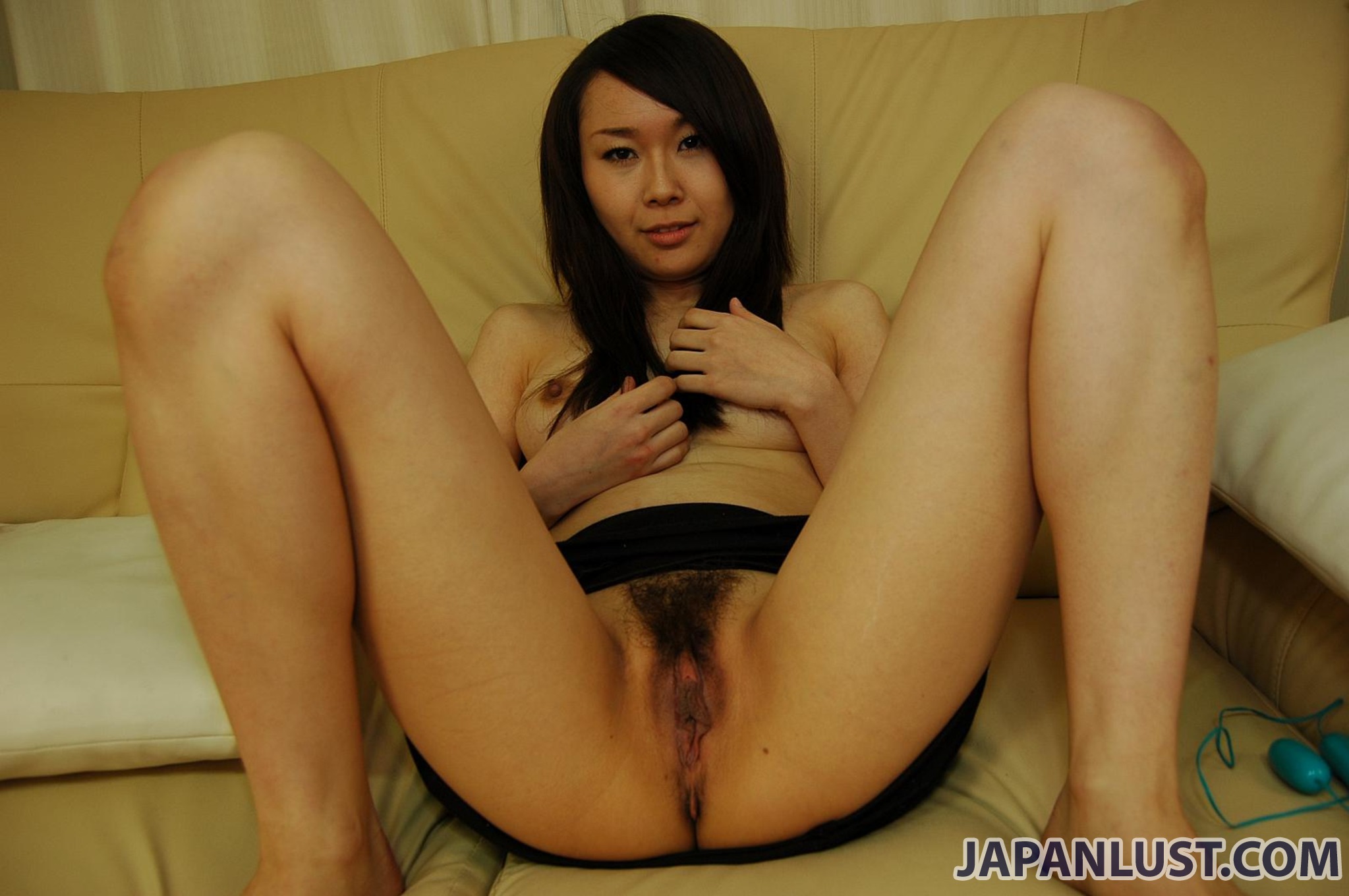 A body that hasn't aged a day
Taking off her beige blouse reveals a perfect pair of tits, ones that look like the tits of a 20-year-old smoking hot babe.
Elegant as she looks, we can tell from the way she describes her sexual experience that she's obviously very freaky. And someone who's this horny will surely have no problem undressing in front of a camera.
Standing up and slipping her legs out of her pantyhose before taking off her miniskirt. This brunette cougar is wearing a thong, talk about lascivious acts.
She takes off her blouse to reveal the racy bra matching her thong's pattern. It's barely hiding a pair of really nice mature tits.
The view gets even better once she takes the bra off; her big plump boobs are so good.
Following them with her thong which is apparently already wet from her aroused hairy pussy, it would seem this guy is in for one wild ride.
On the couch for some playtime with her toys, the sexy naked woman picks up the denma first.
Our two toys take turns destroying her pussy hole and clit. And she puts no effort into muffling the pleasured sounds coming out of her mouth.
"Yes! Yes!", "Just like that!", and "It feels so good!" turn this scene into something straight out a smoking hot western porno.
He realizes she's practically inviting him to dig deep, and so he does. Switching his tongue to crazy mode, he turns her hairy pussy into an all-you-can-eat buffet.
To make things even spicier, he uses the denma on her again, but this time he's the one holding it. The brunette cougar screams in satisfaction and her legs violently twitch as she cums.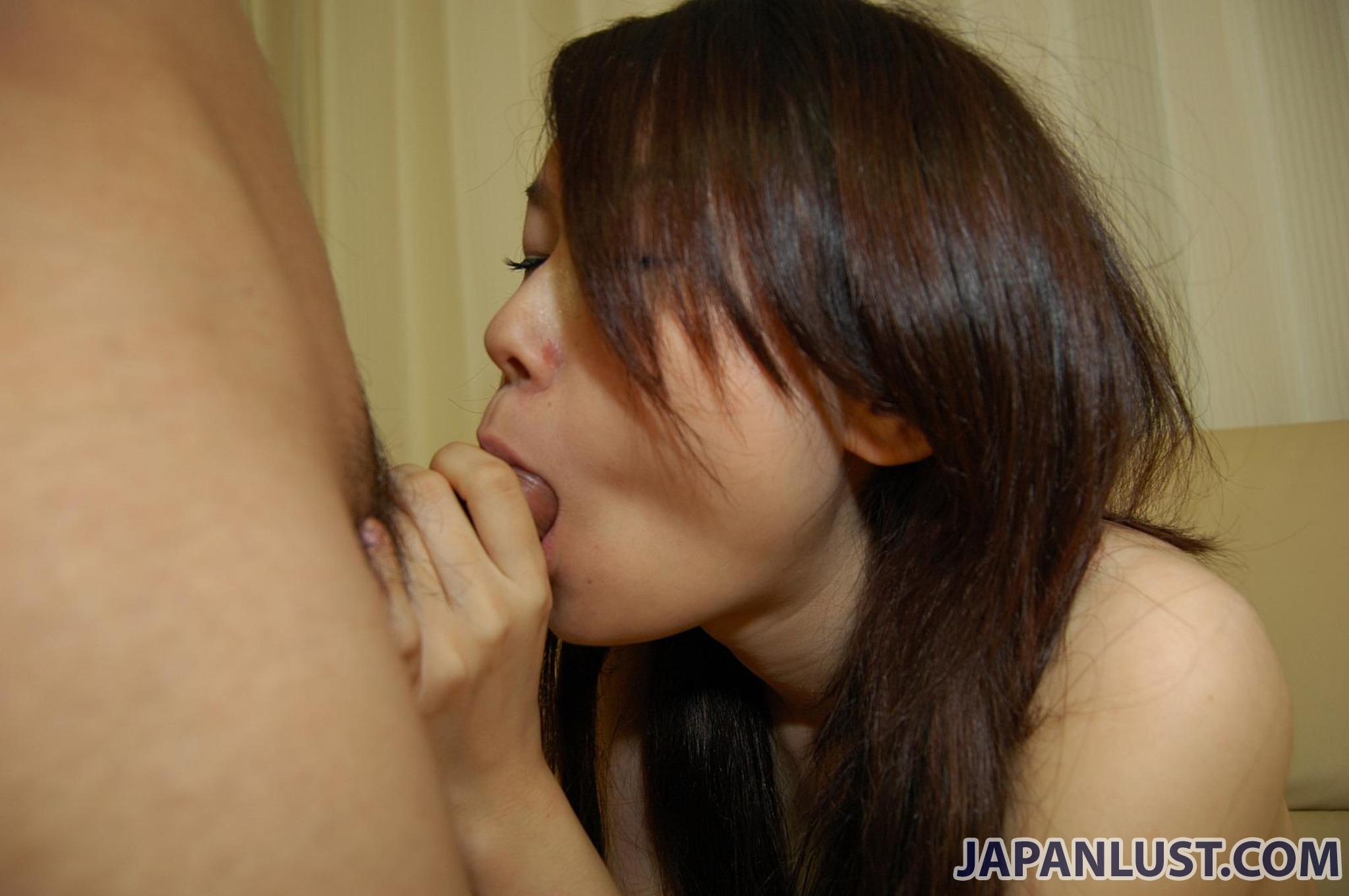 Brunette cougar is a professional cock sucker
Now that her mature hairy pussy is soaking wet from the orgasm she had, it's his cock's turn to get the special treatment.
One hand holding his ball sack, and the other grabbing his shaft's base, she nibbles and sucks till the cock is hard enough to split a brick in half.
But enough beating around the bush, it's time that cock prodded her wanting pussy.
He bends the brunette cougar over on the couch, and goes down on her raw. Slapping her fleshy ass cheeks with his groin like there was no tomorrow.
Mayu takes things to a more appropriate place, heading to the bedroom and lying down. Her inviting pose urges her man to use her mouth to please her.
A couple of passionate kissing lead to some sensual tit sucking and nipple teasing, all the while his hand is taking good care of her pussy.
Finally reaching his destination, he's back to ravaging her hairy pussy with his slick tongue.
To repay his favor for making her soak the bed sheets with her cum, she has him lie down for a special treat.
Her pretty mouth goes on an expedition, leaving no area of her man's body undiscovered. The brunette cougar nibbles on his chest and nipples with her sweet lips before heading down to give his hard cock some more love.
This time though, she makes sure to take care of the ball sack with her mouth and not just her hand. Swallowing it whole deep inside her mouth before going back up to have the red cock head hit the back of her throat.
Riding that cock
Horny as she'll ever be, the sexy naked woman settles in after sitting on the cock. She's riding it like a mad cowgirl; the violent bouncing of her perfect boobs is evidence enough.
A 180 rotation brings her voluptuous ass right in our face as she hops up and down on the rod, drowning it in her pussy juice.
On all fours and ready for doggy style, the brunette cougar is clearly no newcomer to taking hard cock deep inside her mature hairy pussy.
Yummy ass cheeks rippling and gorgeous perky tits jiggling, she moans as the hard cock stirs up her insides.
It's very clear that missionary is Mayu's favourite position, since her sexy sounds are louder than ever once she's spread open and the cock drills her deep.
Her man seems to agree, as the thrusts from his hips are now faster than they've ever been. The lewd sound of all the love juices mixing inside of her hairy pussy as the cock destroys it is incredibly sensuous.
The sexy naked woman's voice is breaking up as she's yelling that she's about to cum. His rough pummelling is making it impossible for her to speak.
Little does she know, her perfect mature body has already brought this man to his limit. And what better way to finish such a sensational session of hardcore fucking than to climax together?
Disaster strikes when his diamond hard cock slips right as he's about to cum.
Somehow managing to shove it back in right before he ejaculates, his sticky load fills her up for a perfect hot creampie.
She thanks him for making her feel so good, as the scene comes to a close. Turns out calling her an brunette cougar wasn't so accurate after all.